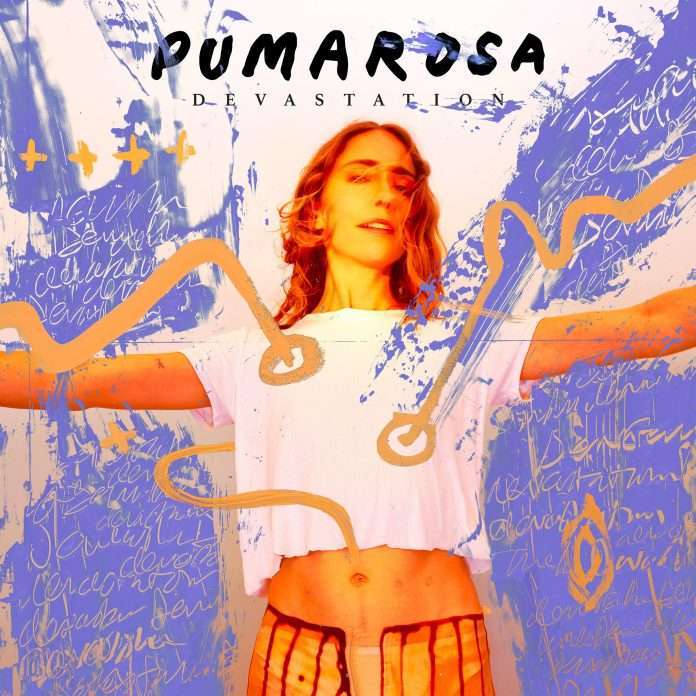 Today, Pumarosa share the brand-new video for latest single 'Fall Apart' taken from their forth-coming album 'Devastation ', due for release November 1st.
Director Robert Fox said, "The video for 'Fall Apart' involves a group of folkish renegades transporting a message contained in a frivolous farmers basket around London in a frantic rush. Eventually the basket gets delivered to it's destination, a shrine initiated by Isabel, the apparent guardian of this coven. She is situated in an old house, summoning the women with her enchanting performance of the song. The message is an egg inscribed with the message 'Chaos is coming'. I wanted to celebrate chaos by creating a fanatical modern day fable, transmitted in a messy mosaic of a video and involving a collective of women who have perhaps escaped their traditional beginnings for a life of rebellion, female liberation and paganism."
From the very first beat of 'Fall Apart', anyone familiar with Pumarosa can tell that a transformation has taken place. With a fast drum'n'bass inspired tattoo beating urgently beneath a sawing riff and a wide, synthesised expanse, this is a dramatic evolution from the band's more guitar-driven debut, 'The Witch'. Digging deeper into electronic influences ranging from Aphex Twin and Autreche to old jungle tunes, the shock of 'Fall Apart' mirrors the irreversible shift in Pumarosa's own circumstances: shattering diagnoses, new beginnings and a strange optimism – the promise of what can be built only after total annihilation – all fed into a record that feels like an exhilarating affirmation of life.
Learning to 'Fall Apart' may not have come easily to Pumarosa, but what's emerged in 'Devastation' is an album about transformation on a more cellular level. First came the chaos: on the week 'The Witch' was released, the band's lead singer Isabel Muñoz-Newsome was diagnosed with cervical cancer, with the resulting surgery and recovery totally changing her relationship to her body (and how to write about it). Inner-band relationships also evolved following the departure of bassist Henry, which further energised Pumarosa to explore new spaces in their already-expansive sound. The band took the work to producer John Congleton in LA, whose production on the likes of St Vincent and Swans helped convince them he could bring these songs and life-changing experiences into existence. They were joined in the album recording by Tool's Justin Chancellor who, after becoming a fan of the band from their debut, provided driving bass performances in his inimitable style.
Introduced in suitably-abrasive style on 'Fall Apart', 'Devastation' is a powerfully uplifting album that confirms Pumarosa as one of the UK's most inventive and ambitious bands. Songs work though questions of mortality and the pain of love while revelling in sexuality: what it feels like to 'Fall Apart', what it takes to carry on, and what it means to be alive.
Live Dates
18th Nov || Newcastle || Cluny
19th Nov || Glasgow || St. Lukes
20th Nov || Birmingham || Castle & Falcon
21st Nov || Manchester || Academy 3
22nd Nov || Leeds || Brudenell Social Club
25th Nov || Bristol || Thekla
26th Nov || Brighton || Patterns
27th Nov || London || EartH
29th Nov || Dublin || Workman's Club
Preorder Devastation here