Ninja Tune partnering with Monkeytown Records in order to present a brand new chapter – vol. 04 no less – in Modeselektor's aptly named "Modeselektion" compilation series, bringing together an utterly enthralling and 100% exclusive collection of 17 free-thinking and boundary-pushing tracks from exciting upstarts such as Skee Mask, rRoxymore and Sarah Farina to exalted visionaries Peder Mannerfelt, Vatican Shadow and Modeselektor themselves who present their first new track since 2015. It's a direct reflection of Modeselektor's genre-defying DJ sets week in, week out around the world which, at its heart, celebrates invention, innovation and hybridity combined with a hearty commitment to moving dancefloors. Indeed, this has been the ethos from the inaugural release in the Modeselektion series in 2010.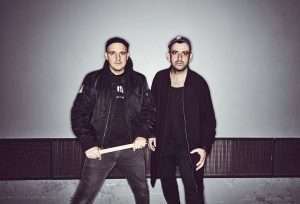 Four exclusive tracks from the forthcoming album by Actress (Ninja Tune), Lone (Magicwire, R&S), Brainwaltzera (Film Records) and Solid Blake (Apeiron Crew) are available to stream/download now. True to form and also to Modeselektor's modus operandi, the selection is delightfully chaotic, spanning Brainwaltzera's AFX-approved braindance, Actress' signature humanoid pulse, Lone's inimitable hi-tech jazz and Solid Blake's stuttering machine funk.
"The choice of tracks is influenced by our thirst for effective dance music. After almost four years of touring with Moderat, we really felt the urge to dedicate ourselves again to what made us".
The album is released on 1st June 2018 as a two disc CD, digital album and for vinyl fans it will be available as four individual 12" EPs, or packaged together in a limited edition 4×12" slipcase exclusively available from Bandcamp, the Ninjashop, the Monkeytown store and Bleep. The iconic artwork, as always, comes courtesy of long term Modeselektor collaborators Pfadfinderei.
Modeselektion Vol. 04 Tracklist:
1. Brainwaltzera – 'Vodiga'
2. Actress – 'Watercolour Challenge'
3. Claude Speeed – 'A Different Point Of View'
4. Lone – 'Smoke Signals'
5. Kasper Marott – 'Metaxas Carnival (Tandoori's Voodoo Mixx)'
6. rRoxymore – 'Cosmopolitanism'
7. Rødhåd – 'Blacksmith'
8. Peder Mannerfelt – 'Sectional Healing'
9. Radio Slave – 'Introduction'
10. Vatican Shadow – 'Desert Father (Modeselektor Edit)'
11. Modeselektor – 'Kalif Storch'
12. Lory D – 'ob.bx-n'
13. FJAAK – 'Matte'
14. Solid Blake – 'Masha'
15. Skee Mask – 'Lil DB Tool'
16. Sarah Farina & Yo van Lenz – 'Peace Dub'
17. Fadi Mohem – 'Endless'
The Modeselektion 2018 tour takes in Italy, Belgium, Scotland, Germany, Poland, London, New York and Los Angeles and includes mammoth nights at Berghain in their hometown Berlin and at Fabric in London.
Modeselektion Tour Dates:
Apr 20 – Magazzini Generali, Milan, IT
May 04 – Fuse Club, Brussels, BE
May 05 – SWG3, Glasgow, UK
May 18 – Robert Johnson, Frankfurt, DE
May 24 – The Brooklyn Mirage, New York, US
May 26 – 1720 L.A., Los Angeles, US
Jun 08 – Berghain, Berlin, DE
Jun 16 – Fabric, London, UK
Jun 29 – Smolna, Warsaw, PL
Jun 30 – Blitz, Munich, DE
https://www.facebook.com/MDSLKTR/