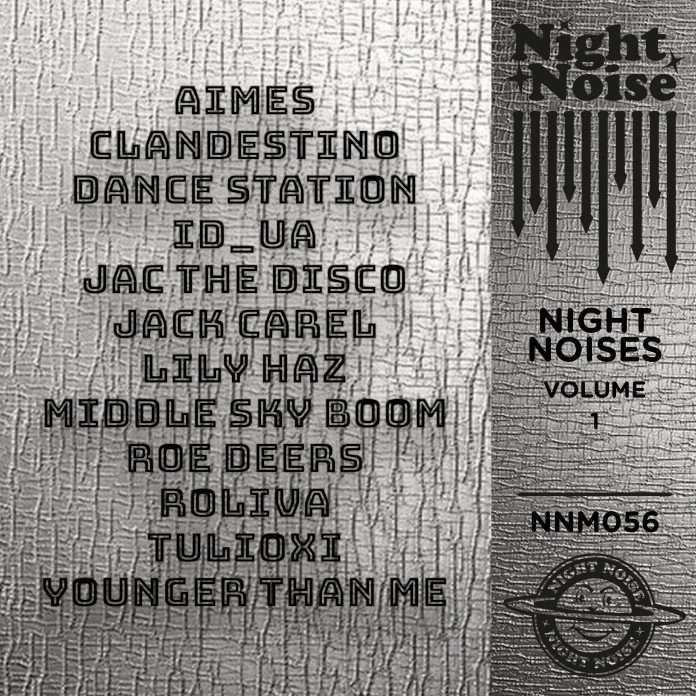 Night Noises Vol. 1
The forward-looking Night Noise Music once again gives a vital platform to a host of fresh producers on the first volume of a new compilation series entitled Night Noises. Night Noises Vol 1 features new compositions from label regulars Tulioxi, Lily Haz, MiddleSkyBoom & Elizer, ID_UA, Roliva, Dance Station and additionally welcomes Roe Deers, Clandestino, Jac The Disco, Jack Carel, Younger Than Me and Aimes to its growing roster.
Label regular Tulioxi kicks off with a deep cut, melodically cosmic and expansive bit of mid-tempo disco perfection. Swirling vocals and blissed out riffs add real musical richness to this most appealing groove. MiddleSkyBoom & Eliezer then slowly build the suspense with their percolating loops and steamy vocals and newcomer Aimes—who is the Wonder Stories label boss—jacks up the floor with corrugated drums and pinging cowbells all run through with acid flashes and disco darkness.
Roe Deers get more unhinged with the loose percussion and psyched-out synths of 'Prince' and Younger Than Me shows why his tracks are always such hot property as he serves up another tantalising cut with heavy kicks and a pumping technoid groove.
Other label newcomers include Leeds trio Clandestino, who regularly host events with the likes of Andrew Weatherall, and serve up the brilliant 'Voice of The End Times', which is a hypnotic mix of snaking lead synths and rubbery dub disco drums. Roliva's 'Disco Lisérgico' is a wild brew of pixelated pads, meandering synths, darkly filtered vocals and sci-fi effects.
This bumper release shows exactly the sort of widescreen and unrestricted disco sounds that Night Noise deals in, all while proving the label truly has its finger on the pulse of the next generation of essential artists.
Release Date:22-02-2019
Tracklist:
1. Tulioxi – Winter Afro Acid
2. MiddleSkyBoom & Eliezer – Depth
3. Clandestino – Voice of The End Times
4. Aimes – Quirked
5. Jac The disco – F2S
6. Jack Carel – Eastern Journey
7. Dance Station – Love Smack
8. ID_UA – Yakobilly
9. Roliva – Disco Lisérgico
10. Roe Deers – Prince
11. Lily Haz feat. Ziv – Call
12. Younger Than Me – No Fear

https://web.facebook.com/nnightnnoise/