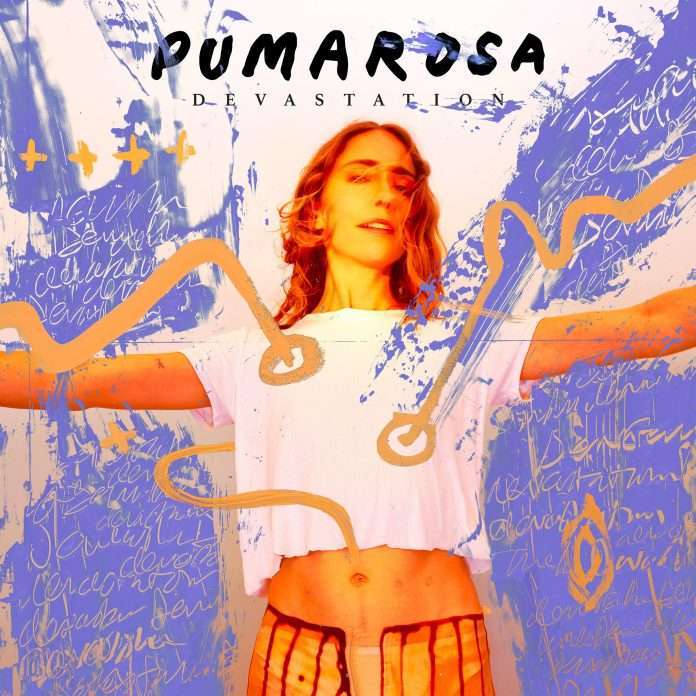 Pumarosa have today unveiled brand new song 'Heaven', which is available on Fiction Records. 'Heaven' – alongside startling returning track 'Fall Apart' – will feature on the band's keenly-anticipated second album 'Devastation', which will be released on November 1st and be preceded by a brand new single soon. Pumarosa's winter headline tour is on sale now, including a London date at EartH on November 29th, whilst 'Heaven' has additionally been selected to feature on the latest FIFA soundtrack (available now).
'Heaven' has the immediate feel of defining Pumarosa moment, building from hushed house beats and ghostly electronics into an anthemic rush of existential euphoria. It is in many ways, says Isabel, "a love song. It's sadness and longing. When you don't want it to end. In a weightless place, suspended out of time. I guess that's just where you find yourself sometimes. And all you want is for the love to stay. Don't go! I guess 'Heaven' has this celestial feel to it though, I can see outer space when I sing it and hear the music. Colours and points of light in endless darkness. Aching!"
From the dizzying heights of 'Heaven' to the crushing lows of 'Fall Apart', the stage for Pumarosa's second album – 'Devastation' – is set. It's a record that explores transformation on a cellular level, with the sort of strident optimism and sonic experimentation that can perhaps only come after total annihilation. First came the chaos: on the week the band's debut album, 'The Witch', was released, Isabel Muñoz-Newsome was diagnosed with cervical cancer, with the resulting surgery and recovery completely changing her relationship to her body (and how to write about it). Inner-band relationships also evolved following the departure of bassist Henry, which further energised Pumarosa to explore new spaces in their already-expansive sound. The band took the work to producer John Congleton in LA, whose production on the likes of St Vincent and Swans helped convince them he could bring these songs and life-changing experiences into existence.
What's emerged is a powerfully uplifting album, confirming Pumarosa as one of the UK's most inventive and fearless bands. Working through questions of mortality, sexuality and strength – from hell to 'Heaven' (and back again) – 'Devastation' is an exhilarating and suitably-unpredictable affirmation of life.

Live Dates
18th Nov || Newcastle || Cluny
19th Nov || Glasgow || St. Lukes
20th Nov || Birmingham || Castle & Falcon
21st Nov || Manchester || Academy 3
22nd Nov || Leeds || Brudenell Social Club
25th Nov || Bristol || Thekla
26th Nov || Brighton || Patterns
27th Nov || London || EartH
29th Nov || Dublin || Workman's Club