Taken from new album Let There Be Cello,out now https://www.youtube.com/watch?v=Xj3gU3jACe8 https://www.facebook.com/2Cellos
Rita Ora releases Let You Love Me (Möwe Remix) https://www.youtube.com/watch?v=JmAJG9OIt2U https://open.spotify.com/track/6xtcFXSo8H9BZN637BMVKS
2CELLOS new album Let There Be Cello,out now https://open.spotify.com/user/2cellosofficial/playlist/0cpbvA6KekNBZWJ01S4M1I Stream/Download/CD Here Tracklist: 1. Concept2 2. Eye of the Tiger 3. Pirates of the Caribbean 4. Cadenza 5. Hallelujah 6. Perfect 7. Vivaldi Storm 8. Whole...
Out Now https://open.spotify.com/user/m%C3%B8music/playlist/4puq3wtbJRhoaWnfmPoxp2?si=kIbRTQ8EQIW674TomSF8pg FOREVER NEVERLAND IS OUT EVERYWHERE! AhhhHHH!! ∞🌟∞ https://t.co/Okwir9wVoq pic.twitter.com/w0xr8IYbI9— MØ ∞ (@MOMOMOYOUTH) October 19, 2018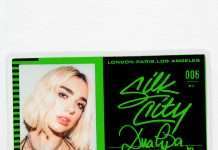 Listen Silk City(Diplo, Mark Ronson)with Dua Lipa - Electricity (Acoustic) https://www.youtube.com/watch?v=xlZkHEJMOPE Stream/Download Digital Platforms here https://open.spotify.com/track/79QsAQKkk3hlOC6yV1uKdg
Taken from Mudra EP,out October 29(Beatport) on Totem Traxx Records https://soundcloud.com/dubiks/premiere-do-shock-booze-mudra-mayudepth-remix The label owner "DO SHOCK BOOZE" released a new progressive techno track "MUDRA" which...
The 24th release on Anorrack Records welcomes Marc Hoffmann to the label with his 3 track technotastic EP 'Saturn'. https://soundcloud.com/dubiks/premiere-marc-hoffmann-titan Attention DJ's Marc Hoffmann - Titan and...
Taken from Chromium Music 13th EP Called 'Reflections' This Release contains an original track produced by the talented techno artist and label owner...
FaltyDL aka Drew Lustman makes his debut AUS release in 'Wondering Mind'. Lustman's releases always keep you on your toes, constantly moving forward and...
Fresh from a packed summer of Ibizan parties Darius Syrossian is back on Hot Creations with his pumping Danzer EP featuring a remix from...
Fractal Mood buddies up with 90's Kids, Eric Fox and Mari Ferrucci for an electrifyingly groovy 2 tracker "Assim". First we jump into 'Session...
Marking an unforgettable weekend highlight, Four Tet headlined the Saturday night of Lost Village 2018 - playing a remarkable set that spanned across genre,...
NYC's reigning soulful disco-house champions, Escort share their first new single "Slide" since their 2015 Animal Nature LP. Escort's founder/producer Eugene Cho, JKriv, and lead...