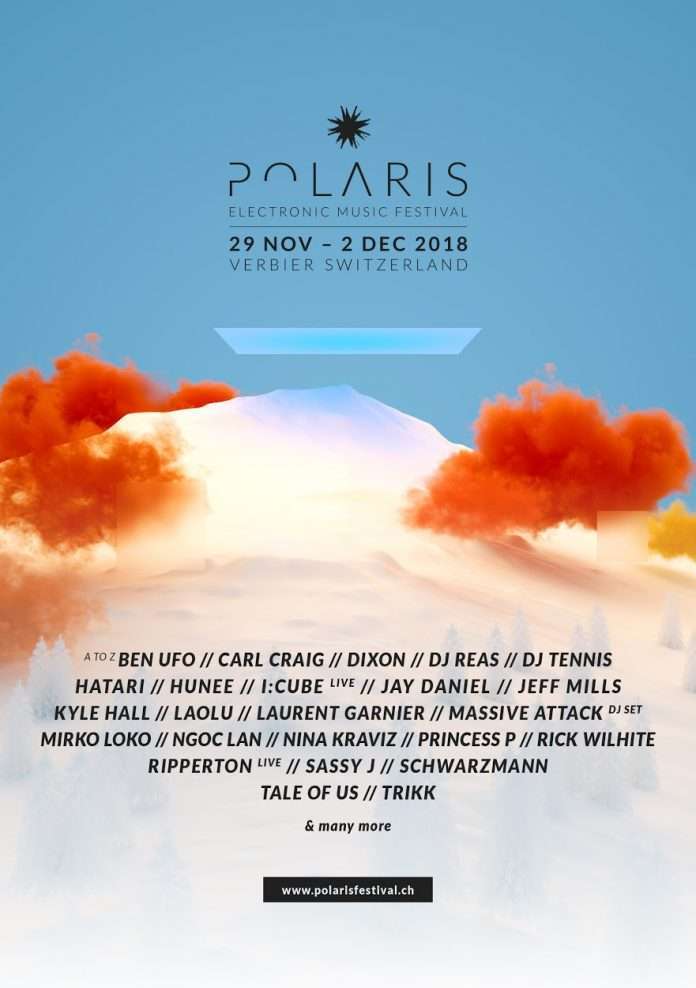 Polaris Festival reveals the line-up of its fourth annual edition
29 November – 2 December
Verbier, Switzerland
Polaris, the mountain-top festival in Verbier, Switzerland, returns for its fourth edition, from Thursday 29th November – Sunday 2nd December. Set in a beautiful mountain-top alpine village, Polaris mixes a unique location with a well-thought selection of new discoveries and headliners of the electronic music scene, fresh air energy and that feeling you get when dancing to music closer to the sky.
Over four days, and complete with a brand-new main stage location at Les Esserts, more than 25 artists will move you on the dancefloor. This year, Polaris Festival will have the honour of welcoming established artists such as Nina Kraviz, Dixon, Ben Ufo, Jeff Mills, Tale Of Us and DJ Tennis, alongside newcomers, such as Kyle Hall, Jay Daniel and Trikk. French DJ and producer Laurent Garnier, who delivered an unforgettable set at the first edition of the festival in 2015, also returns to the mountain top.
There will also be a rare DJ set from Massive Attack, who will play the festival's opening night, as well as rare live performances from French DJ and producer, I:Cube and Schwarzmann, the duo composed of Frank Wiedemann (Âme) and Henrik Schwarz.


Again this year, Polaris Festival will put the American scene in the spotlight. Two legendary figures, Carl Craig and Rick Wilhite, will mark Saturday 1st December for the Detroit Love special, alongside the Detroit new wave, Jay Daniel and Kyle Hall.
The festival also welcomes the best of the new Swiss scene – Sassy J, Princess P and Hatari – as well as regulars – Ngoc Lan, Reas, Mirko Loko, Laolu and Ripperton, who have been part of the festival's DNA since its beginnings.
This year, Polaris Festival will install its main stage at Les Esserts, in the middle of the ski slopes, offering a breathtaking view on all Verbier. This new location has a greater capacity and allows the festival to extend its schedule until 2am from Thursday to Saturday.
Winner of the "Best Big Event 2016" at the Swiss Nightlife Award, Polaris Festival promises many surprises for 2018. The Festival OFF line-up will be announced in October.
Tickets are on sale today on www.polarisfestival.ch/tickets and https://etickets.infomaniak.com/shop/c8Y6rwTQvF/
Full line-up (A-Z)
Ben Ufo
Carl Craig
Dixon
DJ Reas
DJ Tennis
Hatari
Hunee
I:Cube live
Jay Daniel
Jeff Mills
Kyle Hall
Laolu
Laurent Garnier
Massive Attack DJ set
Mirko Loko
Ngoc Lan
Nina Kraviz
Princess P
Rick Wilhite
Ripperton live
Sassy J
Schwarzmann (Âme & Henrik Schwarz) live
Tale Of Us
Trikk