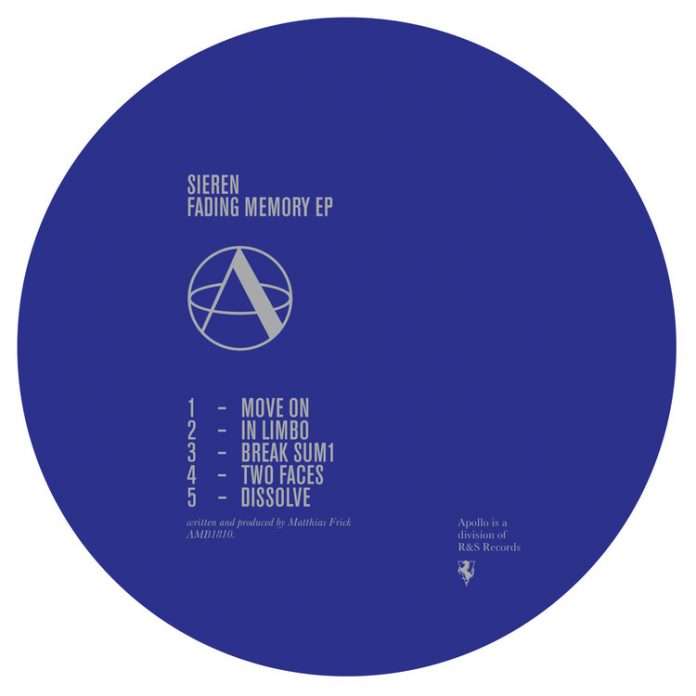 Matthias Frick AKA Sieren returns to Apollo with his most personal EP to date.
The 'Fading Memory EP' showcases Frick's blissed out post bass atmospherics as they delve deep into bittersweet emotions and dissolving memories.
'Move On' opens the release, with cycling plagent pads, are counterpointed by dark bass and bumping percussion, 'In Limbo' introduces nervous unease through swelling side chained 2-step drums hissing ambiance and crystalline pads. 'Break Sum 1' provides the EP's most heartfelt moment, yearning vocals and an uplifting melodic synth figure glisten with light for a beautiful soundscape. 'Two Faces' keeps the mood reflective with 'verb drenched pads punctured by skittering, playful drum programming. 'Dissolve' rounds out the EP in similarly emotive territory, angelic yet melancholic and cycling female vocals.
This is richly textured and intricately programmed electronica sure to satisfy fans of Burial, dBridge, Synkro with its soulful sincerity and warmth.
release date: 19 October 2018
Tracks
01 Move On
02 In Limbo
03 Break Sum
04 Her Two Faces
05 Dissolve
Listen Sieren – Live @ Palác Akropolis, Prague (01.02.2017)

https://www.facebook.com/sierenmusic