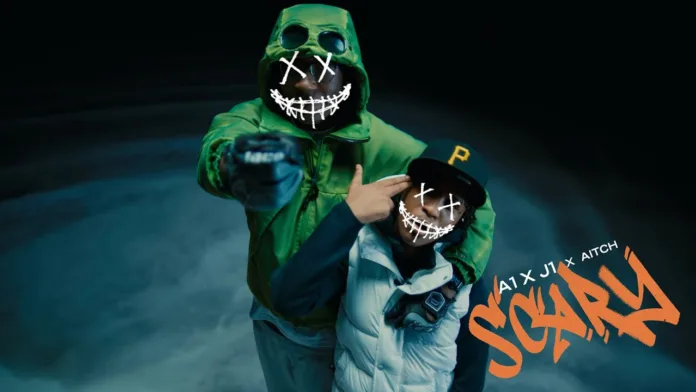 A1 x J1 are back with new single 'Scary', featuring Aitch and available now on EMI. With 'Scary' currently going viral on Tiktok, the platinum-selling teenage rap duo have already been nominated for a BRIT, won GRM's 'Breakthrough of the Year' Award and sold over 2.5 million UK records (and 940 million global streams) as they enter a new, elevated level of their career.
'Scary' is an attitude-heavy but affectingly raw return from A1 x J1, touching on mental health ("mandem fighting demons") and the impact of knife crime by encouraging fans to stay on the right path in life. Reuniting with BRIT Award winning Manchester rapper Aitch, 'Scary' drops after huge fan-demand online and was previewed in suitably engaging form by the duo with content ranging from tributes to the band's late icons to its future soundtrack for Halloween.


A1 x J1 met on the Houseparty app during the febrile early days of the pandemic, and have emerged out of it as one of British rap's most exciting prospects. 17 year old A1 (hailing from North West London, via Coventry) and J1 (aged 19, and from Kent) capture the zeitgeist, with first single 'Latest Trends' peaking at #2 in the UK Chart and ending 2021 as the biggest single from a debut artist that year. Collaborations have since followed with the likes of Tion Wayne, Mabel, Jax Jones, Nemzz and SL, as well as fashion tie-ins with Converse and New Era. Beyond their effortless flow on record, A1 x J1 have instant, immensely likable personalities, building up a huge young community for their humour, positivity, and openness. Whether discussing football, mental health, relationships or prank calling their beloved mums, A1 x J1's infectious energy is as striking on the record as off. Two talents multiplied as one, you sense too that they are only just getting started.
'Scary' strikes a more mature but no less vital new era for A1 x J1, with more music and plans to follow soon