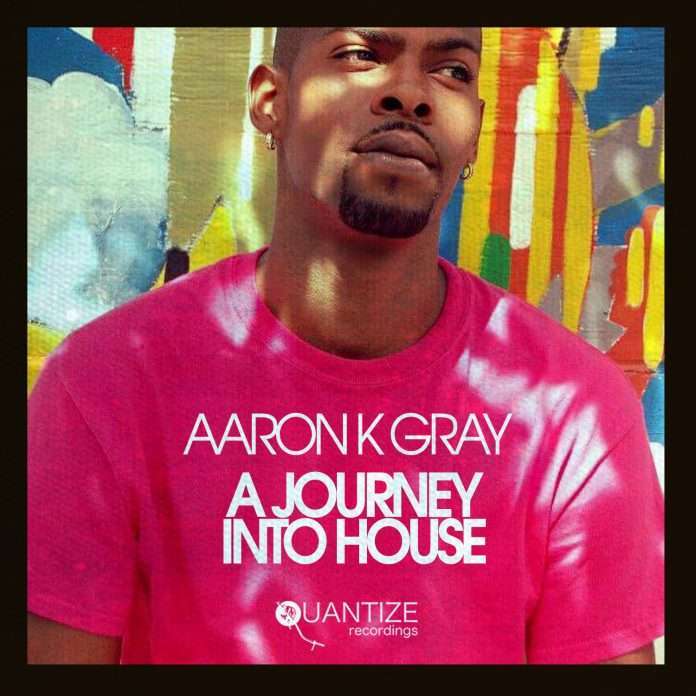 I Got A Feeling taken from 'A Journey Into House' LP on Quantize Recordings
Talented New York based Soul and Gospel house singer songwriter Aaron K Gray, who has been turning heads on the soulful scene with his distinctive voice, gets set to unleash his brilliant 2nd artist album, 'A Journey into House'. The album features a massive 17 songs spanning the colorful spectrum of Gospel, House and Afro, ripe with uplifting heartfelt vocals, spine tingling harmonies all set to a backdrop of top-class musicianship. 'A Journey into House' features collaborations with a fine stable of producers including Mark Francis, Graham Knox Frazier, DJ Gomi, Marc Tasio, Junior White and many more. There's also a brilliant soulful cover version of Christopher Cross' classic 'Ride Like the Wind', produced by Derrick Ricky Nelson, and remixed by DJ Spen and Michele Chiavarini for the dancers.

Aaron began his musical career at the age of just 7 years old as the lead singer in the church choir. Fast Forward to 2001, he released his first R&B album entitled 'Body Rain' to great acclaim. Aaron released his first house record 'Wonder Why' with Junior White and Tony Humphries on Tony Records in 2014 and has since had a flourishing career releasing songs such as 'Hallelujah' with Graham Knox Frazier and Scott Wozniak, 'Funky Praise' with Giulio Bonaccio, 'Thankful' with Graham Knox, 'When We All Pull Together' with Jeff Redd, Kenny Bobien, and CeCe Rogers, 'Lead Me' with Date Night, among others. Aaron's recent singles, which all are featured on the new album, include 'Resting Place' with Mark Francis, 'Ride Like The Wind' with Derrick Ricky Nelson, Giulio Bonaccio on 'David Dance', 'Come By Here' with Marc Tasio and 'All I Need' with DJ Gomi.

Track Listing
1 Aaron K Gray & Junior White – Jesus
2 Aaron K Gray & Derrick Ricky Nelson – Ride Like The Wind (DJ Spen & Michele Chiavarini Remix)
3 Aaron K Gray & DJ Gomi – Let Go
4 Aaron K Gray & DJ Gomi – Continue
5 Aaron K Gray & DJ Gomi – I Got A Feeling
6 Aaron K Gray & Junior White – Rejoice
7 Aaron K Gray & Mark Francis – Resting Place (Mark Francis Remix)
Connect Artist, Label, Support
https://www.facebook.com/aaronkendallgray/
https://www.facebook.com/QuantizeRecordings/