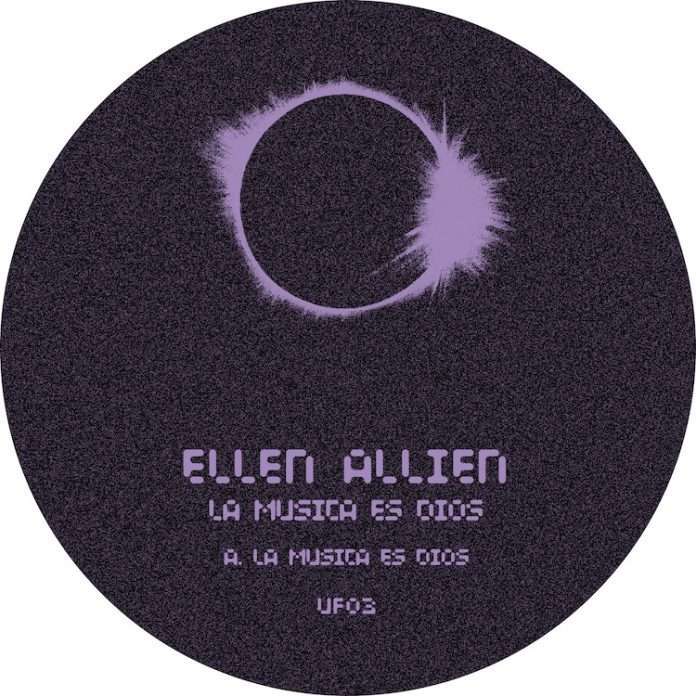 Ellen Allien keeps it raw with the third release of her UFO Label
Ellen Allien returns with the third release on her UFO imprint. Focusing on raw aesthetics, UFO serves as a space for artists to explore the dark, rugged side of their music. On this third installment from the label we get three deliciously dark productions… First out of the block is 'La Musica Es Dios' (Music Is God), which comes in two mixes. The mood of the first mix is a little more upbeat with brighter frequencies and skipping beats. Though, once the main body of the track comes in, a menacing swathe of analogue growls whip up a storm. A breakdown tinged with 8-bit leads offers brief respite before another break ushers in another menacing low end.
The second mix works from the deep tremor of its juddering bassline, subtle beats teasing along a contagious rhythm. As a master of vocal hooks, Ellen skilfully introduces a distorted clip that repeats over and over as the drama unfolds, whilst wistful pads and a sombre riff keep it melancholy.
Finally, 'Junge' penetrates our minds with its punchy drums and snares. The pace is quicker and more energised with a pervading sense of dread emanating from the background. Downright nasty, with a sneering riff and shadowy atmospherics.
release date:11 November 2019
Tracklist
A1. La Musica Es Dios
B1. Junge Sein
B2. La Musica Es Dios (Mix 2)
https://www.facebook.com/EllenAllien/