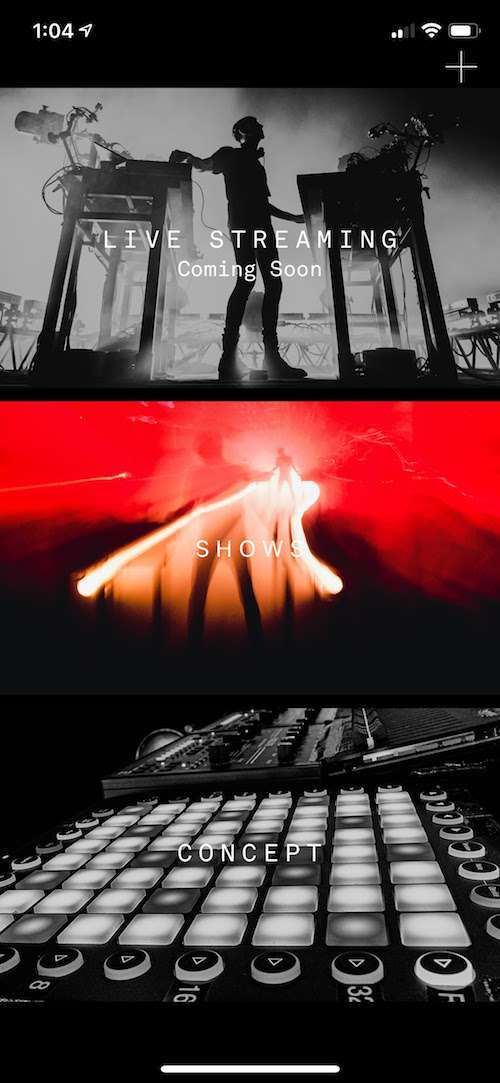 RICHIE HAWTIN today releases CLOSER, an interactive mobile app created in partnership with Telekom Electronic Beats, allowing users innovative new ways to manipulate and engage with his recently released audiovisual mix album 'CLOSE COMBINED (GLASGOW, LONDON, TOKYO – LIVE)'.
The app also includes an exclusive audiovisual edit of his 2017 performance from Bonusz Festival in Budapest entitled 'BUDAPEST CONDENSED', the first of many classic Hawtin performances to be released exclusively inside the app.
The CLOSER app provides two core features for the user to dive into: ON-DEMAND MIXING and future INTERACTIVE LIVE STREAMS. An overlaid mixer panel allows users the ability to deconstruct and manipulate individual audio channels of Hawtin's mix including drums, synths, effects and decks. The app's unique three-panel vertical layout allows fans to view and toggle between distinct HD camera angles from the CLOSE live performances – crowd view, stage setup and equipment close-ups – bringing the audience closer to the creative impulse that drives Hawtin's performance. Hawtin's own innovative RADR technology provides real-time track information within the app experience.
'CLOSER' bridges the gap that currently exists between the live experience of electronic music and the digital experience online. The experience will continue to evolve into the future, when the app's LIVE STREAM capability is activated, offering users the ability to interact with live performances in the same way they can currently with recorded shows.
Hawtin's omnipresent impact on the music industry demonstrated in four examples:
"Richie Hawtin Renaissance Man Of Techno On Bridging Technology And Creativity"
– FORBES
Final Scratch, Traktor
Richie was the driving force behind digitization of DJing by introducing the Laptop to the DJ booth.
The Final Scratch technology enables DJs to play and control digital music files with a dedicated timecode vinyl disc. The Final Scratch idea snowballed and various brands started developing digital DJ controllers.
Co-founder of Beatport
By co-founding the digital music shop Beatport, Richie revolutionized the way DJs (and later everybody) access and purchase music. The digital DJ and music revolution leaped ahead with this innovation.
PLUS 8 EQUITIES
Richie leads an investment fund with his artistic community and extended industry network, to help develop music technology innovation, assisting LANDR, Splice, Endel, Subpac and a handful of others.
MODEL 1 Mixer/ PLAYdifferently
A collaboration between Richie Hawtin and Andy Rigby-Jones (former Allen&Heath). This mixer features characteristics of both, studio and DJ mixer. With a design and functionality which is significantly different then any previously built device, this innovative performance instrument is a class of its own.
Interactive app – made for mobile phones – available for free via iOS App Store and Google Play