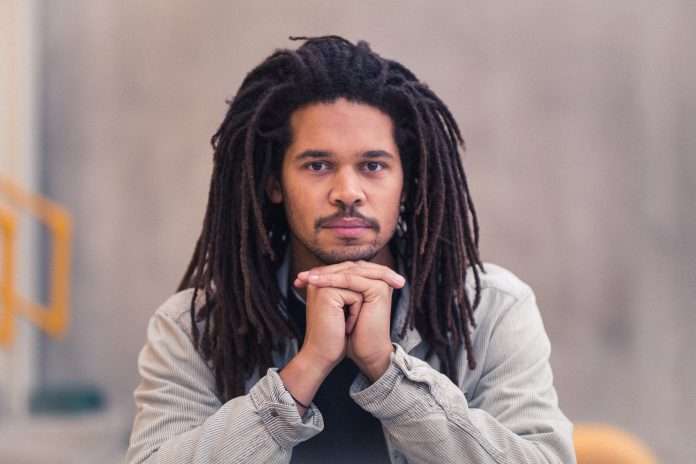 Bradley Zero celebrates five years of his Rhythm Section International imprint with SHOUTS, a 36 track compilation that perfectly encapsulates the labels ever evolving and dynamic sound.
Famed by Mixmag as one of the Top Ten DJs of 2019, celebrated as a "figurehead for the exploding south London scene", and "responsible for spreading the gospel of the city's new Jazz sound", it's clear to see why Bradley Zero is quickly becoming the taste-maker of his generation and Rhythm Section INTL as one of the most respected outlets for authentic global cuts.
A go-to label for the connoisseurs Rhythm Section INTL is a UK staple. The raison d'être has always been to unearth and nurture new talent, not just via the catalogue but through the now established network of radio shows, concerts and club nights Rhythm Section has become known for. The SHOUTS compilation and accompanying celebratory tour is a continuation of this mission.


Bradley's unique ear has gone on to break artists such as Chaos In The CBD and Neue Grafik via Rhythm Section INTL. The back catalogue of established musical heavyweights also includes: Jordan Rakei in his Dan Kye guise, King Krule on production and vocals for Pinty, Harvey Sutherland masquerading as Bad Channel on the INTL BLACK sub label, and sounds ranging from R&B by Australian producer Silentjay (Sampa the Great/ Hiatus Kaiyote) to the neo- soul incantations of 30/70 and the retro Street-Soul productions of Manchester's Ruf Dug.
Across 36 tracks SHOUTS takes in past, present and most importantly, future elements of the labels cross section of sounds, to make a clear statement of intent for the next 5 years and beyond.
SHOUTS is a nod to the online radio culture that birthed the movement. SHOUTS is the label using its voice to amplify its peers. SHOUTS is Five years of Rhythm Section International.
SHOUTS – 5 years Of Rhythm Section INTL
release date: April 3rd, 2020
Tracklist
Duke Hugh – Zoë
Hedonics – Who Are They?
Monzanto Sound – Open Flower (Showcase Mix)
Reggie Dokes – She Knows
Kay Suzuki & Z Lovecraft – Juno Psycle
Emma-Jean Thackray – Brand New
Neue Grafik – Organic Food
Sangre Voss – Bey
Paula Tape – Panamericana
Post Traumatic Drum Disorder – Death By Disco Ball
Yu Su – 223
DJ Monoid – Pipi
Jad & The – Deep Dark Grimey Dancefloor Moment
Sleep D – Hydralite
Desert Sound Colony – Control Yourself
Andy Hart – Spirit Method
Will Hofbauer – LA Test
Lock Eyes – Inner Conspiracy
Losian – Marian Court
Dawit – Level 7
LT – Wet Look
Mallard – Beer Tune
Tolouse Low Trax – Alles Welt
Katerina – Bird People
Valesuchi – 30
Bronze Savage – Reality
Research Club – Café Iguana
Kodåma – Meditation in Eb Minor
Mali-i – Fire & Ice
The Colours That Rise – Grey Doubt Theme
Prequel – I Tried to Tell Him
Shy One – House Party
Tenderlonious – After The Storm
Apiento – AS
Contours – Drifting
Session Victim – Gheister
SHOUTS – 5 years Of Rhythm Section INTL is available to pre order from 12th February.
The label will donate the first week of Bandcamp pre orders to South London youth lead charity – Youth Futures
(Orders made between 12th – 19th Feb)

https://www.facebook.com/djbradleyzero