Arriving July 21st, Timeless (The Remixes) features all new mixes from Break, Grey Code, Searchlight, Scar, Nookie, J Kenzo, Trevino and OneMind, plus newly remastered classic mixes.
Trevino, AKA Marcus Intalex, was truly a leading light in the UK electronic music scene. A pioneering mainstay of the drum & bass scene from the early 90's onwards, he was hugely influential through his productions, radio show, record labels and DJ sets. His Trevino project saw him dive into the world of underground house and techno, displaying a polymath ability to move seamlessly through genres. Before his untimely passing in 2017, he delivered this beautiful remix of Goldie's most famous single, the seminal 'Inner City Life'. The result is a magically deep offering that marries deep 4/4 drum patterns and ethereal FX to the always-young vocals of Diane Charlemagne. This stellar remix provides the final single before the release of the complete Timeless remix album this summer.
Says Goldie of this remix. "I managed to speak to dear brother of mine, Marcus Intalex, before he passed about his Trevino Remix of Inner City Life. A couple of years prior we laughed about the idea and he did a version that I played out for quite a while. I recently spoke to the Foundation in his name and we thought it would be a really good idea to make the track available to all. His take on 127 has always amazed me! So much love to Marcus, my dear brother."
'Timeless' is one of electronic music's most critically acclaimed and influential albums. Written over a quarter of a century ago, it remains as relevant and influential as ever for new generations: a breathtaking and space-age symphony of meticulous synth craft, cinematic sound design and atmospheric breakbeats. The album set a new standard, reached new highs with the technology available at the time and proved Goldie's ambition and imagination were limitless, not least with the epic 22-minute title track.


The same vision that drove the original album informs this new remix LP, with each mix commissioned by Goldie himself from a selection of his closest collaborators and most respected peers. A second disc features classic remixes, all newly remastered for the project.

The album opens with the first single, a remix of 'Inner City Life' from veteran Break, one of drum & bass's most consistent and best-selling producers. The Symmetry Recordings founder distils the magnificent beauty of the original into a devastating six-minute club cut with fizzing bass and precision breakbeats as the iconic vocals of Diane Charlemagne soar up top. Next is Grey Code, a new school talent and Metalheadz artist renowned for his well-rounded production prowess. His version of 'Kemistry' showcases this with its minimal breaks and plunging basslines overlaid with sci-fi sounds.
Searchlight, aka Irish drum and bass producers ZeroT and Beta2, are signed exclusively to Goldie's Fallen Tree 1Hundred label. They bring a signature mix of jazz, broken beat and neo-soul to their sun-kissed 'State of Mind' remix before the accomplished Scar duo steps up. These Metalheadz regulars have been at the heart of the scene since its formative years and bring all their know-how to 'Angel', flipping the beautiful original into a peak time cut with sawtooth synths and raw, driving bass. Nookie has been turning out vital cuts since the 90s, working with legends in the game and regenerating himself with each new production. His remix of 'Inner City Life' is a cacophony of intense and unrelenting breakbeats before Metalheadz tastemaker J Kenzo's famously minimalistic and dark tribal sound defines his Tribute remix of 'Jah'.

Searchlight then step up for a second remix, tackling 'Sensual' with an exquisite sense of soul, warm trumpets and rich basslines under jazzy piano chords. The late great Trevino, best known as Marcus Intalex, was always close to Goldie and Metalheadz and a pioneer in his own right who was innovating until the end. His remix of 'Inner City Life' brings chunky four-to-the-floor rhythms and weighty bass for a deep, pulsating club workout. Last but not least is the OneMind duo, who have been Metalheadz artists since their inception. They bring jungle influence and freeform tumbling drums to their deeply atmospheric take on 'Kemistry.' A second disc adds further weight to this essential collection with still-classic remixes from enduring drum & bass pioneers Doc Scott, Nookie, 4 Hero, Photos, Baby Boys, Pushy and TeeBee.
This historic album joins the dots between the past, present and future of drum & bass, with Goldie's faultless originals and on-point A&R providing the irresistible catalyst.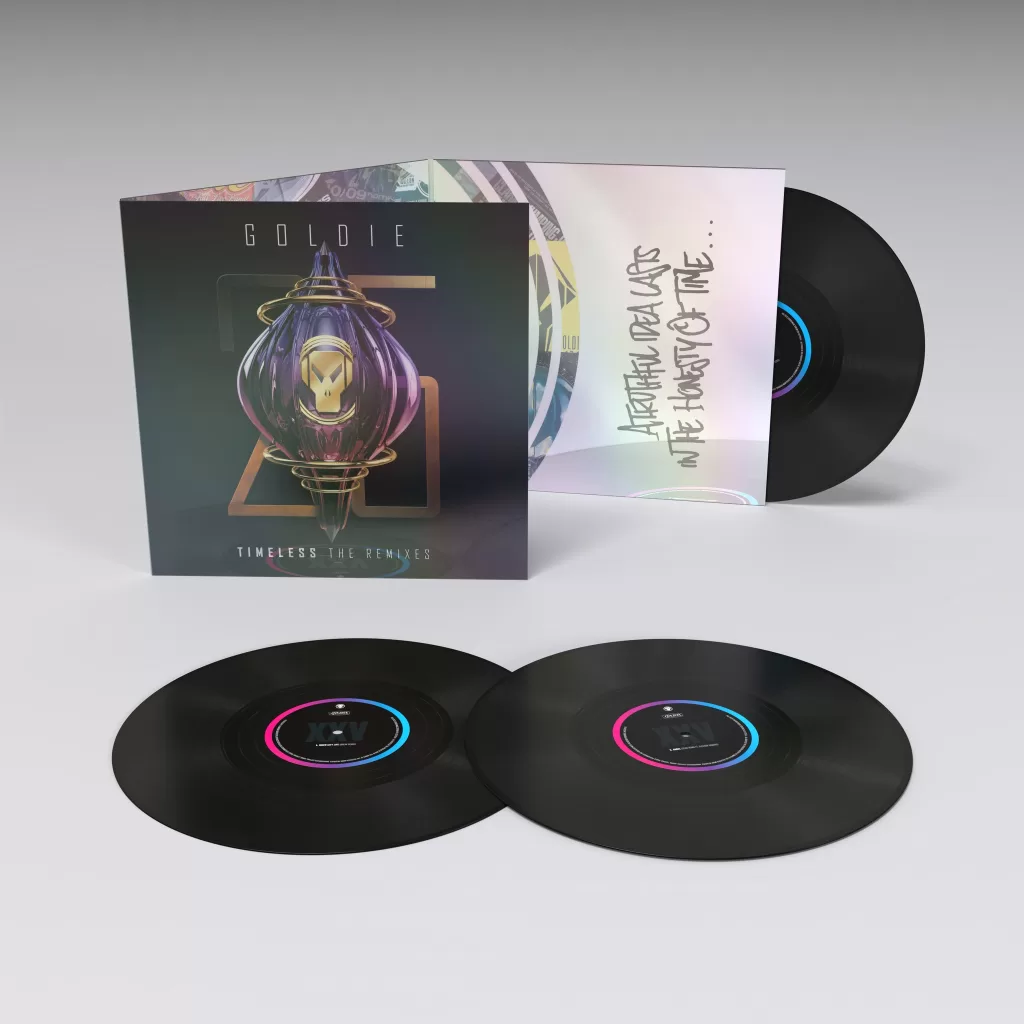 Goldie 'Timeless' (The Remixes)
Tracklist
CD 1 / Vinyl
1. Goldie – Inner City Life (Break Remix)
2. Goldie – Kemistry (Grey Code Remix)
3. Goldie – State of Mind (Searchlight Remix)
4. Goldie – Angel (Scar Remix)
5. Goldie – Inner City Life (Nookie's '2021' Remix)
6. Goldie – Jah (J Kenzo Tribute Remix)
7. Goldie – Sensual (Searchlight Remix)
8. Goldie – Inner City Life (Trevino Remix)
9. Goldie – Kemistry (OneMind Remix)
CD2
1. Goldie – Angel (Peshay Back From Narm Remix)
2. Goldie – Inner City Life (4 Hero Remix 'Remix 1')
3. Goldie – Inner City Life (Nookie's 94 Remix)
4. Goldie – Angel (TeeBee Remix)
5. Goldie – Kemistry (Doc Scott Remix)
6. Goldie – Still Life (Photek Remix)
7. Goldie – Inner City Life (Baby Boys Remix)
8. Goldie – State of Mind (Hip Hop Instrumental)
Preorder here
Stay tuned at Futuristic Tracks of the Week selection and Listen to Goldie 's new music first

Follow
https://www.facebook.com/Goldie