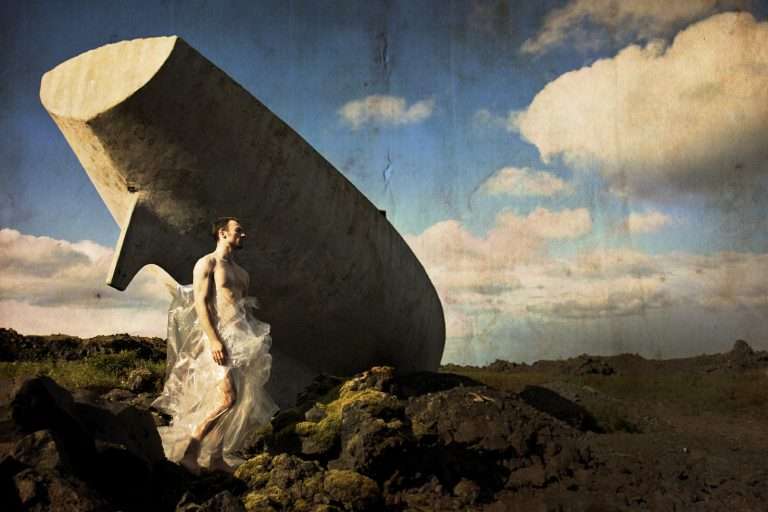 American-Lithuanian singer, multi-instrumentalist, and composer Abraham Brody will be sharing his new track and video, "Nightingale", taken from his upcoming LP "Crossings", scheduled to be self-released on the 16th of November. This track follows previous self-released singles "Judith" and "In The Dream", also taken from the forthcoming album, which was was produced by Francesco Fabris at Greenhouse Studios (Ben Frost, Valgeir Sigurdsson, Björk) in Iceland.

Born in the USA, Abraham Brody lived in Austria, London, and Lithuania, finally settling in Reykjavik, Iceland. Brody also holds residency credit at The National Sawdust and Happy Lucky No.1 Gallery in New York, where he performs solo, as well as with Moscow-based group Pletai and Lithuanian singers Trys Keturiose and has also exhibited his video installation and performance 'ONGON', based on rituals of Buryat Shamans. Brody's debut album, "From The Rich Dark Earth" was released in May 2017 and in April 2018 he made his Kennedy Center debut in Washington D.C., and has also appeared at venues such as the Barbican Centre, Southbank Centre, Rich Mix London, Sziget Festival Budapest, Great Amber Hall Latvia, and Reykjavik Arts Festival among many others. This year, Brody was also awarded a prestigious grant from the Lithuanian Ministry of Culture to tour his project 'ANCESTORS'.
Comparable to modern classical avant-garde composers such as ANOHNI's Anthony and the Johnsons project, Laurie Anderson and Anna von Hausswolff, Brody has also since been dubbed "Lithuania's male Björk" for his ability to innovate, crafting spiritual compositions akin to composers such as Ólafur Arnalds or Icelandic collective amiina.
"Nightingale", made in collaboration with Icelandic experimental electronic musician Áslaug Magnusdottir and traditional Lithuanian vocal group Trys Keturiose, is a track that exudes a sensitive tenacity. Directed and filmed by Anna Friða Jónsdóttir, the music video for the track mirrors this complicated and beautiful mood, featuring Abraham Brody himself in the visuals, his naked form enclosed within a massive plastic sheet while he journeys through different stark and impressive scenes of nature. Anna Fríða and Abraham Brody have worked together in the past on art installations in both Reykjavik and New York and have come together once more for the creation of Brody's powerful "Nightingale" music video, which both of them co-produced. The final product is a breathtaking visual journey that represents the struggle against being silenced.
On the brand new music video for "Nightingale", Abraham Brody explains, "The story of the song is open to your own personal interpretation, but I wrote the lyrics one morning when I was awoken by the singing of the Nightingale outside my window. In this state between sleep and dreaming I started to think about all those places we try to push out of our mind, out of our own reality – the war zones, the destroyed cities of Syria and Iraq, of Ukraine, where people still survive in such brutal conditions. I had this image in my mind that the Nightingale sings there too, and that its song is like the metaphor of a last hope, in the middle of the darkness."
This image of hope is one that goes even deeper, as Brody goes on to delve into the levels of meaning in this video and piece of music: "As an American LGBT artist, the recent political events both involving Kavanaugh, Trump's stance on Global warming, and the recent attempts to pass bills which remove the rights of transgender citizens has upset me. My original message of the video is still valid, but I feel also that the costume and the choreography of the music video represent more the struggle against being 'silenced', and against our voices being heard and accepted."
https://www.abrahambrody.com/