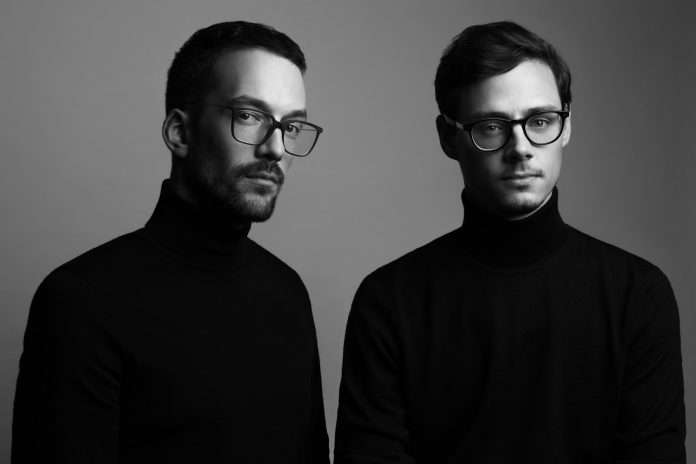 Synth-composer duo Felsmann + Tiley are set to release their debut album, 'Tempora', on December 6, via Rare Ware Co and have released a brand new video for one of the album cuts, 'October', directed by rising star filmmaker Nicole Tsin. The new album follows on from the release of three singles from 'Tempora' – 'October', 'April' and 'August' – and is self-composed and produced by Felsmann + Tiley in its entirety. Rare Ware Co. is the pair's own imprint, a label designed to promote artists who use the synthesizer as their instrument of choice.
Made up of German-born composers Patrick Tiley and Dominik Felsmann, Felsmann + Tiley share a passion for film scores, contemporary piano compositions and innovative electronic music. However, the two critique that, "film scores often do not stand up on their own when removed from their visual experience, classical music sticks to its centuries old instrumentation and electronic music is largely dominated by kick drums and percussions". With their Felsmann + Tiley project, the duo are attempting to break this mould, using only synthesizers to experiment with the creation of an infinite range of sounds, new ways of modulating and expressing music and live performance opportunities that have never before been realised.
Taking influence from innovative genre-blending contemporary electronic musicians such as Nils Frahm, Deadmau5, Stephan Bodzin, Olafur Arnalds and Stranger Things soundtrack composers Kyle Dixon & Michael Stein, Felsmann + Tiley are also inspired by the classical symphonic music genre and its sound design, dubbing their unique and immersive sound similar to composers Ben Salisbury & Geoff Barrow (Ex Machina, Annihilation) and Alexandre Desplat (The Shape of Water) for their ability to contrast between digital and analogue structures and texture.

'October' is one of Felsmann + Tiley's more melancholic and introspective tracks, and filmmaker Nicole Tsin has truly managed to capture the mood of this gently nostalgic and wistful piece of music. The video follows an elderly man through a series of different scenes – a seemingly never-ending tunnel, an embrace with his wife, the man sitting in a deckchair, staring out blankly – all simultaneously raw and surreal. With the visuals, Tsin explains how she wanted the video to convey an aesthetic and mood that is, "beautiful and poetic with nostalgic and slightly surreal environments," which is precisely what has been achieved with the perfectly suited visuals created for Felsmann + Tiley's 'October'.
Nicole Tsin comments, on the brand new video for 'October', "A man embarks on a spiritual journey to reconcile with his past in order to heal his soul".

Album Tracklist:
January
February
March
April
May
June
July
August
September
October
November
December