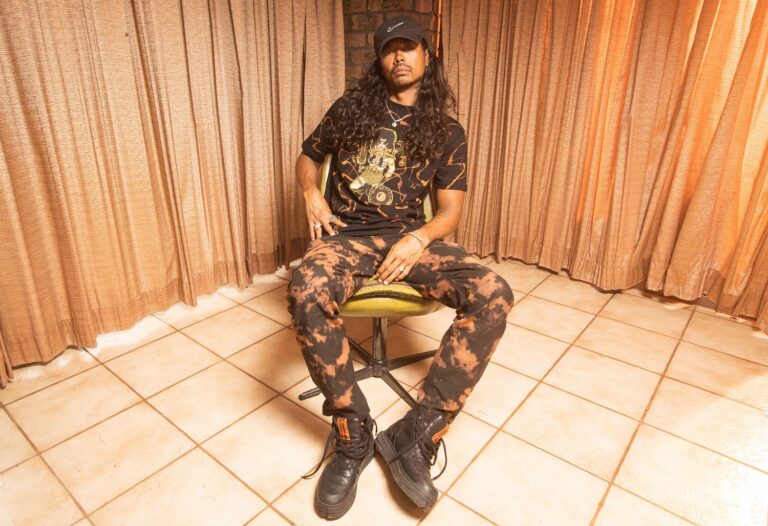 Indonesia-born electronic producer and vocalist BLOODMOON (aka Dougy Mandagi of Melbourne's The Temper Trap) today announces his debut EP Giving Up Air via newly launched UK label Eat Your Own Ears Recordings in partnership with Future Classic and Liberation Records. To celebrate the announcement, BLOODMOON has shared a brand new track from the EP called 'Deeper'
'Deeper' is the third track to be shared from the upcoming EP, combining Dougy's signature falsetto with production credits from Scottish producer Pariah. It follows his most recent world-colliding collaboration with fellow Berliner, Bearcubs called 'All In Place', as well as his viral debut single 'Disarm' – a track that first emerged on the FIFA 2022 soundtrack earlier this year and garnered a slew of fans months ahead of its official release. Since then 'Disarm' has gone on to rack up over 2 million streams and has been supported across DSPs and radio including plays from R1, R2 and BBC 6Music as well as international plaudits from KCRW and triple j. Outside of the BLOODMOON project, Dougy is having a big moment on TikTok right now with the recent explosion of The Temper Trap's classic track, 'Sweet Disposition', thanks to an instrumental guitar cover (now on over 3m views). The band's powerful 'Love Lost' collaboration on Mac Miller's posthumous album is also currently collecting over 1m streams a day on Spotify and introducing Dougy's unmistakable voice to a whole new audience.
Speaking on the EP, Dougy explains: "I'm so proud to finally release and share this body of work that has been such a part of my life for the last 2 years. It's liberating to know that these songs will now no longer just be mine but will belong to everyone who connects with them. That's when the real magic happens."
BLOODMOON grew up in America
From the Indonesian kid who grew up in America, to the teen with the thick American accent at high school in Bali, and then one of the only Asian singers in Melbourne's homogenous early-2000s indie rock scene, Dougy always felt like an outsider. After The Temper Trap cemented themselves as one of Australia's biggest exports of the decade, with 1 million worldwide album sales, US & UK platinum certifications, a BRITS nomination and 2 ARIA #1 albums and 4 ARIA awards at home, Dougy went on hiatus in 2016 and found himself on the hunt for something rejuvenating and his own. After a few life-changing experiences in the notorious club Berghain – he embraced the pulsating beats of his electronic passions and BLOODMOON was born.
In the making of BLOODMOON's electronic-inspired debut EP, Dougy retreated back into his past as a way of making sense of the bold musical direction he's pursuing in the present. For the first time ever, he feels comfortable revealing his extraordinary life story. But it's not that he intended to be mysterious – he's just never felt those details were pertinent to any other musical projects. For Dougy, it marks a full circle moment in his musical evolution, joining the dots between the music obsessed Indonesian kid and the endlessly searching adult who finally seems to have settled in the right place. Indeed, after years on the move, Dougy is home.


Tracklist:
1. Soon Baby, Soon
2. Nothings Lost
3. Deeper
4. As Time Goes By
5. Disarm
6. All In Place (feat. Bearcubs)
Listen Deeper on Electronic ConnectFM Playlist

Follow
https://www.facebook.com/bloodmoonsmusic