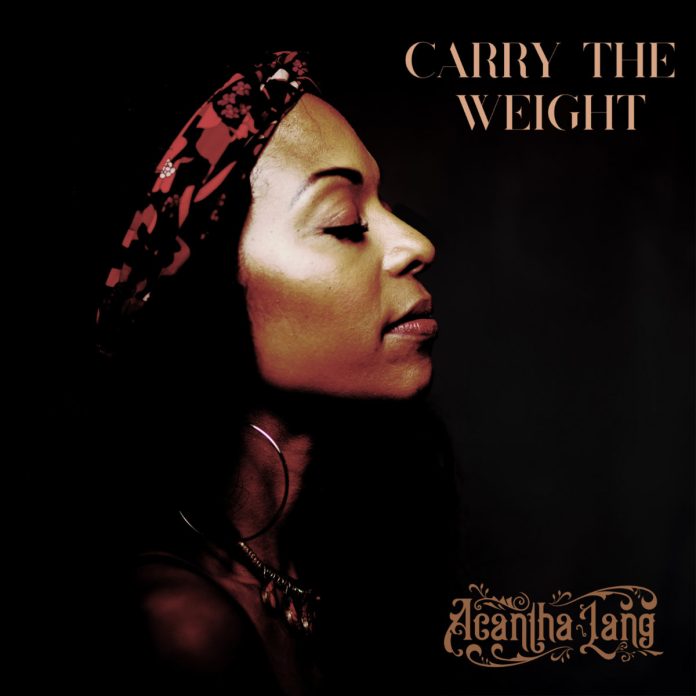 'Carry The Weight' is the new single from New Orleans native (London based) Soul singer, Acantha Lang. The song has a message for people who struggle to ask for help, even when deep down they aren't coping too well (and for those trying to support their loved ones). A chilled but grooving track with warm horns and a touching sentiment.
Speaking about the inspiration behind the song, Lang says: "I was talking with a friend and we both shared that we struggle to ask for help, especially when we need it the most. We realized that we both have friends who are also guilty of this. From there, the concept for "Carry The Weight" was born. A song about helping each other and learning that you can be strong and still accept help from the people who care about you."
Although born in New Orleans, it was in Harlem, New York that Acantha began her career, performing regularly with New York's biggest session musicians at The Harlem Grill for her weekly residency 'Monday Night Blues'. It was only when she relocated to London from New York that she put her own band together and started really developing her sound.

Following her acclaimed 2021 debut 'Sugar Woman' EP, that saw the title track land on Spotify's Best Retro Soul Songs of 2021 in the company of Leon Bridges, Silk Sonic, Yola and more, she has already built a dedicated legion of fans online through her 'Standing On The Shoulders Of…' series, (over 7 million views across Instagram, YouTube, TikTok). She has over 1 million+ Spotify streams, a verified TikTok account with 75,000+ followers, and has a list of serious champions in her corner, including regular supporter Craig Charles (BBC 6Music), GRAMMY Award winning mix engineer, Dave Darlington, has mixed her tracks, and heavyweight session player Mo Pleasure (Ray Charles, Earth Wind & Fire, Michael Jackson) has become a regular collaborator.
Acantha Lang has a sound all her own, while still giving a respectful nod to the Soul legends of the past. After winning awards in 2021: 'New Artist of the Year Award' (Soul Tracks Readers' Choice Awards) and 'Blues Artist of the Year Award' presented by Jools Holland (Boisdale Music Awards), she continues to move from strength to strength. She was accepted into the Recording Academy's (Grammy) 2022 member class and her last single "It's Gonna Be Alright" was on the first round ballots in three categories for the 65th Grammy Awards nominations. Acantha is undoubtedly one-to-watch.
Stay tuned at Radio Hits ConnectFM Spotify Playlist and Listen to Acantha Lang's new music first