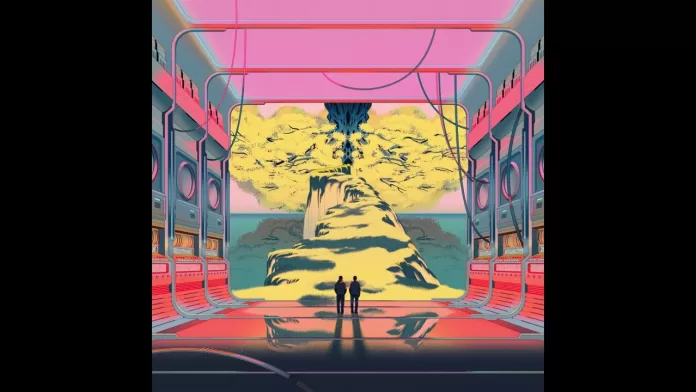 Two of dance music's most innovative minds, Special Request (aka Paul Woolford) and Mumdance join forces on a new EP, Exotic Golfcourse, for Peggy Gou's Gudu Records, out 6 July 2023.
Between them, Special Request and Mumdance have been responsible for some of dance music's most exciting, game-changing and downright thrilling releases of the last 15 years, both driven by a restless desire for creativity and collaboration and an innate knowledge of what came before them. Running through their individual back catalogues would take all day, but 'Vortex', 'Offworld', 'Soul Music', 'Bedroom Tapes'? 'Take Time', '1 Sec', 'Twists & Turns', 'Proto'? At this point, these are dance music heritage.

Started initially as a Mumdance remix of Woolford's classic 'Erotic Discourse' that morphed into something else entirely, the pair's collaboration 'Exotic Golfcourse' opens the EP. A six and a half minute epic that's been stunning crowds for the best part of a year in both artists' sets (not to mention Peggy's), it's precision-tooled for peak-time moments — forget twists and turns, this is handbrakes, donuts and loop-the-loops.
Speaking of twists, Special Request then teams up with South London MC Novelist (who previously collaborated with Mumdance on game-changing grime collaborations in 2014 and 2015) on 'Sliver', finding the sweet spot between classic grime synths and booty-house-esque drums, and climaxing in a tempo change designed to turn the dancefloor inside out.
Finally, Mumdance closes things solo on 'Four Years', working a Bangalter-esque loop for all it's worth on the EP's most outright emotional moment. By the time those chopped vocals, drum rushes and guitar solo (!) have played their part, and the track comes back in for that almighty second drop, it's an outpouring of capital F Feelings that few can match.
Exotic Golfcourse is two of dance music's brightest minds and most impassioned souls on their absolute A-game — expect to hear these tracks all Summer and beyond.

Exotic Golfcourse EP
Tracklist
Special Request x Mumdance – Exotic Golfcourse
Special Request – Sliver (feat. Novelist)
Mumdance – Four Years
Gudu Records will release 'Exotic Golfcourse' on July 6
Presave Here
Stay tuned at Futuristic Tracks of the Week selection and Listen to Special Request and Mumdance's new music first

Follow
https://www.instagram.com/s_p_e_c_i_a_l_r_e_q_u_e_s_t/
https://www.instagram.com/mumdance/