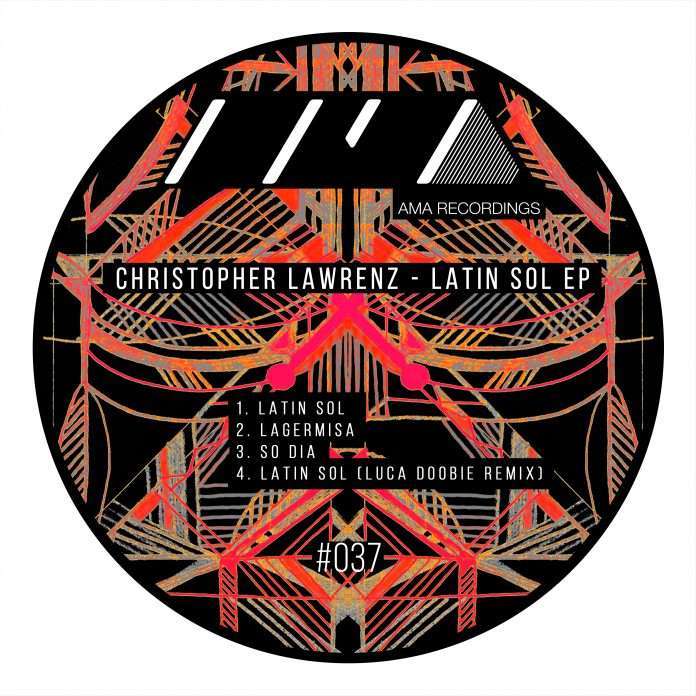 Well known and firmly established as an outlet for high-quality house and techno, Ray Okpara's AMA Recording s proudly presents the 37th release on the label, featuring Pal Club/Hamburgs Resident Christopher Lawrenz. Italian Stallion Luca Doobie adds a well-produced Remix to round up the pack.
Ray Okpara: "This went so fast. After a day I had Lucas rmx in my mailbox. Heared it and loved it
instantly."
Kickin off with title track 'Latin Sol', which gives us a proper Latin sun vibe, embracing the vocals in a deep house aesthetic body moving context. It's minimal, it's house, it's just fine music with a pound of groove!
While heavy manipulated rewinding elements let 'Lagermisa' flow as a deep minimal tune can truly go.
Great placed vocal shots into the broken beat and a long loopy kind of vibe which never gets boring to hear.
Moving forward with 'So Dia' Moving forward with 'So Dia' to more subtle, deeper automations and short punshy atmo fills. Again we can hear the vocal strips of Spanish samples which we indeed love to hear. Luca Dobbie progresses 'Latin Sol into a dancefloor rocket and it finalizes this EP with its Tech-House Bass that keeps us shaking.
Low-end tones and synth stabs jangling as percussions. The whole drive builds up till the open Hi-Hat setsin.
AMA Recordings , founded in 2010 by Ray Okpara, has been responsible for introducing a whole host of deep and dubby sounds to the world from the likes of Richie Hawtin, Anja Schneider, Marco Carola,Reboot, Neverdogs, Nick Curly, Federico Molinari, Dubfire, and many more. As the label goes from strength to strength, expect more dancefloor ammunition in 2018 and beyond.
Release Date: June 6th 2018 (Beatport)
Tracks
1- Christopher Lawrenz – Latin Sol
2 – Christopher Lawrenz – Lagermisa
3 – Christopher Lawrenz – So Dia
4 – Christopher Lawrenz – Latin Sol (Luca Doobie Remix)
https://www.facebook.com/amarecordings/
https://www.facebook.com/CHRISTOPHERLAWRENZOFFICIAL/
https://www.facebook.com/rayokpara/