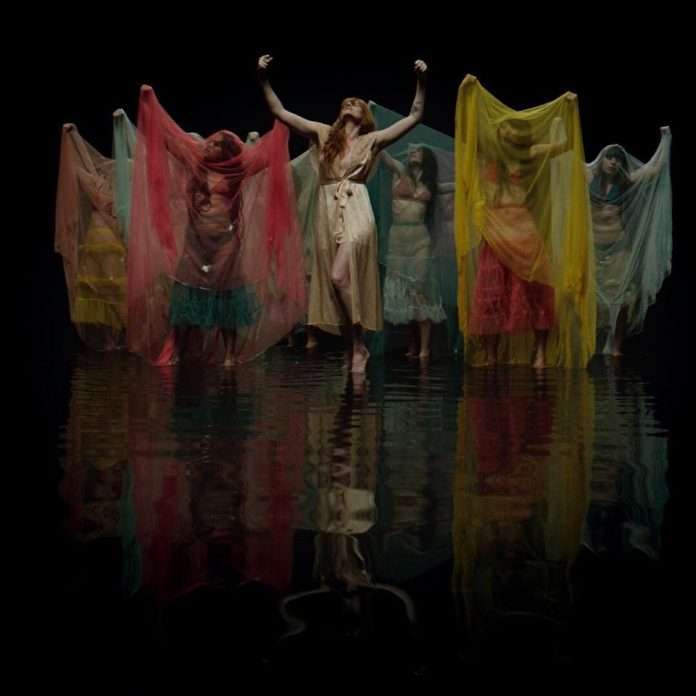 Florence + the Machine has today premiered a stunning video for new track 'Big God', taken from the hugely-anticipated new album 'High As Hope' (out June 29th on Virgin EMI). The 'Big God' video was choreographed by Akram Khan and Florence, and directed by Autumn De Wilde.
Describing the inspiration behind 'Big God' for the first time today, Florence writes: 'Big God' was written about that feeling when someone has not replied to your text, the modern phenomenon of 'ghosting' which is one of my favourite words but not my favourite feeling. I was describing it to someone and they said to me 'you need a big god', as if the need in me were so cavernous it would take something enormous to fill it. Probably something bigger than a text message.
It's always been a very physical song, I saw a dance piece in my head as I was writing it, so to co choreograph something with Akram Khan was a huge honour. Autumn de Wilde fully understood what I was trying to do. The power of the desire within the void. Left with yourself to rage and wonder. And really it is yourself you are raging against. Not the ghost."
Akram Khan, meanwhile, said of the 'Big God' video: "for me, this encounter with Florence and her powerful song somehow navigated itself towards the element – water. But the direction of the dance also became a resistance to all things that wish to oppress, a sort of protest dance and yet a celebratory one towards a new found freedom."
'Big God' is a striking highlight from forthcoming fourth album 'High As Hope', which already has the feel of a career-defining moment for Florence. Florence started writing the record (which is also the first she has officially co-produced) in solitude in South London, routlinely cycling to her studio in Peckham every day to, as she puts it, "bang on the wall with sticks". She took the songs to Los Angeles with her friend and co-producer Emile Haynie, opening them up along the way for collaboration with the likes of Kamasi Washington, Sampha, Tobias Jesso Jr, Kelsey Lu and Jamie xx. Florence mixed the record in New York, where the daily, reassuring view of that iconic skyline – often in stark contrast to the chaos of the wider world – gave the album its upbeat title.
What's emerged – 'High As Hope' – is the sound of an artist who appears more certain than ever of herself.
Florence + The Machine's new single, 'Hunger', is available now, whilst a UK tour has been confirmed for later this year as follows:
November 15 || Leeds, First Direct Arena
November 16 || Birmingham, Genting Arena
November 17 || Glasgow, The SSE Hydro
November 19 || Dublin, 3 Arena
November 21 || London, The O2
November 22 || London, The O2
November 23 || Manchester, Manchester Arena
November 25 || Brighton, Brighton Centre
November 26 || Cardiff, Motorpoint Arena