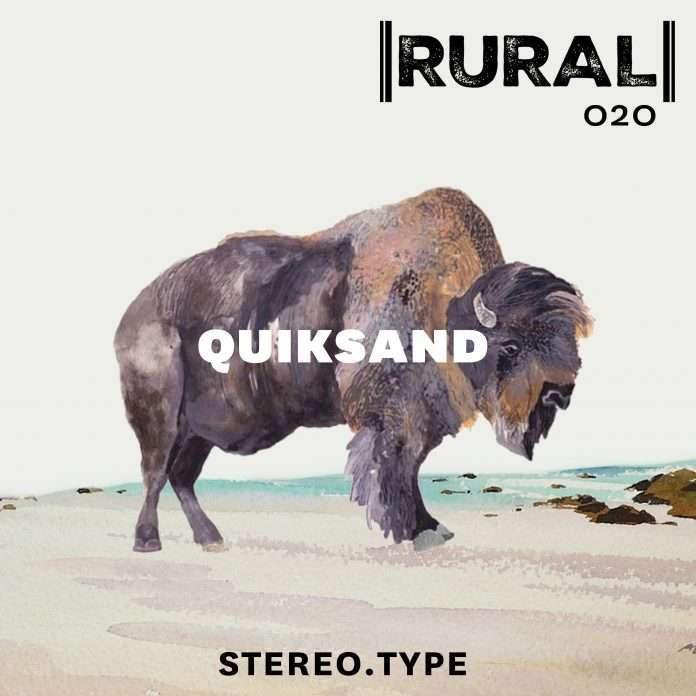 Taken from Quiksand EP ,out October 19th on Rural Records
Nr.9 on TOP 50 House October #dubiksmusiccharts #besttracksofthemonth
Rural Records presents an E.P comprising of two originals and a remix by artists Stereo.type, Justin Marchacos, Ale Castro and Rhythm & Substance. You might recognise Stereo.type through some of their various hits on labels like Get Physical Music, Katermukke's MUKKE, Einmusik's EIN2.
Quiksand has thick kicks and tight bassline sound alongside a tension building alarm style stab. Clean full chords and big wobbly pads create an assertive, yet dramatic piece. A true progressive track that is flexible enough to be played as an opener or at peak time.
Saalt is a collaboration with Justin Marchacos, Following the same progressive vibes as the first track. Saalt's bassline and percussion add a bumpier groove. Strong aggressive synths plough through the mids as haunting clean piano keys hold the top end.
This release is finished with a remix of Quiksand by Ale Castro, Rhythm & Substance. This Argentinian duo did an amazing job at keeping the progressive nature of the original. However, their rendition has more movement in the percussion, presenting a groovier flow.The melody and chords are kept true to Stereo.type's version but darker pad work, good reverb techniques and space between the synths offer a deeper track overall. After the past 2 Rural Records hit releases (Edgar Peng, Daniele di Martino and Sascha Cawa) this is a MUST in your folder!

Attention DJ's
This track +Full EP is available For Club DJ-s and Radio DJ's
-Share this post on your social network with #dubiksmusicbox
-Screenshot of your post
-Send via email : dubiks.pr(at)gmail.com
Wait for #dubiksmusicbox on your mailbox
Connect Artist,Label,Support
https://web.facebook.com/dj.stereo.type.music/
https://rural-music.com/
https://www.facebook.com/RuralSoundsRec/
https://www.beatport.com/release/quicksand/2366406