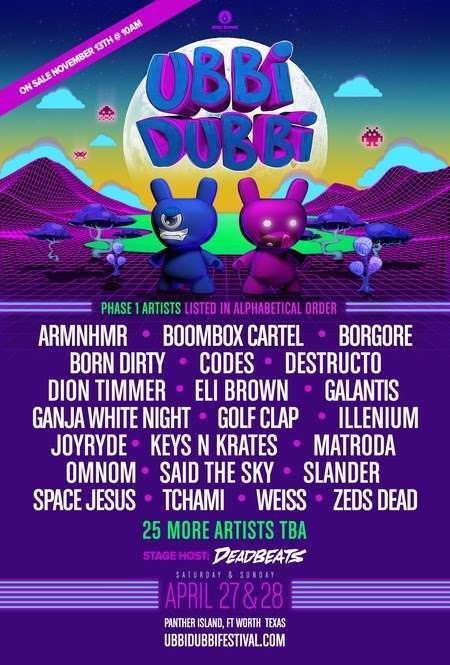 DISCO DONNIE PRESENTS THE INAUGURAL
UBBI DUBBI FESTIVAL
ANNOUNCES PHASE 1 LINEUP FOR APRIL 27 + 28, 2019
Boombox Cartel, Borgore, Galantis, Ganja White Night, Golf Clap, Illenium, Slander, Tchami, Weiss, Zeds Dead + More
Take Over Panther Island in Fort Worth, TX
Disco Donnie Presents Worldwide is showing no signs of slowing down. Following the incredible success of their debut of Freaky Deaky Texas this past Halloween weekend with over 50K attendees, DDP are set to transform Panther Island in Fort Worth, Texas into the magical land of Ubbi Dubbi. Powered by some of the most superior and adventurous artists in dance music for this year's inaugural festival, Ubbi Dubbi takes place April 27 and 28. Today they announce its Phase 1 line-up representing a diversity in sound and style that includes Boombox Cartel, Borgore, Destructo, Galantis, Ganja White Night, Golf Clap, Illenium, Tchami, Weiss, Zeds Dead and more.
A new world of imagination full of wubs, dubs, untz, bleeps and bloops, Ubbi Dubbi features music for every electronic tribe on three stages under the stars. There's more to Ubbi Dubbi then just the beats. As with all of their events, DDP will deliver powerhouse, quality-driven and extravagant stage and light show design throughout the weekend.
Referencing the language of the 1970s show 'Zoom', the theme for the festival centers on two best friends Ubbi and Dubbi who washed up on Panther Island, an enchanting setting that's straight out of a fairytale, nestled in a fork on the Trinity River in Fort Worth, Texas. Dubbi who loves dubstep and trap taught Ubbi about electronic music and now he loves house and techno. Together, the inhabitants of Panther Island promise to give everyone at the festival something to dance about.
This is the latest production by DDP Worldwide who also produce Ultimate Music Festival Experience, Sunset Music Festival, Sun City Music Festival, Freaky Deaky and thousands of tours headlined by the biggest names in the electronic music space throughout the year.
Ubbi Dubbi Festival
Panther Island Fort Worth, TX 76102
April 27th & 28th
3pm-midnight
Ages 18+
Phase 1 Lineup (in alphabetical order)
ARMNHMR
Boombox Cartel
Borgore
Born Dirty
Codes
Destructo
Dion Timmer
Eli Brown
Galantis
Ganja White Night
Golf Clap
Illenium
Joyryde
Keys N Krates
Matroda
Omnom
Said the Sky
Slander
Space Jesus
Tchami
Weiss
Zeds Dead
Stage host; Deadbeats
25 more artists TBA!
Tickets on Sale November 13 at 10am CT
Payment plans also available
Here: http://ubbidubbifestival.com