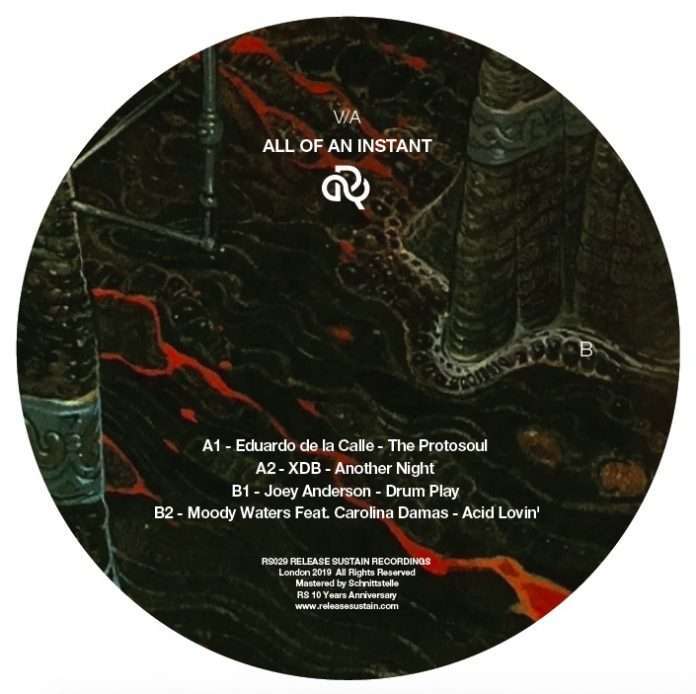 London's Release/Sustain imprint returns this April with a four-track package featuring material from Eduardo De La Calle, XDB, Joey Anderson and Moody Waters feat. Carolina Damas.
The Release/Sustain imprint has gone from strength to strength over the years, welcoming the likes of Alton Miller, DJ Aakmael, Benjamin Brunn, Losoul, Norm Talley and many more respected names in underground house and techno over its past twenty nine releases.
Here we see this continue with some more welcome additions, first up is Eduardo De La Calle with 'The Protosoul' and as always the Spanish artist offers up a perfectly crafter slice of hazy, groove-driven Techno, led by bleepy arps, winding stabs and robust analogue rhythms. XDB then offers up heady, subtly blooming leads, pulsing subs and shuffled drums with 'Another Night' next.
Opening the flip is New York's Joey Anderson with 'Drum Play' which as the name suggest sees the percussive aspects dynamically evolve throughout amongst choppy bass hits, stutter arpeggio blips and warm string melodies. Moody Waters then teams up with Carolina Damas, vocalist on anthemic house cut 'Sueno Latino' for 'Acid Lovin'', edging into deeper territory with ethereal pads, crunchy drums and squelching 303 licks while Damas' soft, spoken-word Latin vocals wander within.

release date:April 12th, 2019
Tracks
1. Eduardo De La Calle – The Protosoul
2. XDB – Another Night
3. Joey Anderson – Drum Play
4. Moody Waters – Acid Lovin' feat. Carolina Damas
https://www.facebook.com/release.sustain