KOII is the innovative singer & artist behind a beautifully fragile, yet powerful sound. She enjoys playing with softly sweet undertones amongst an immersive abyss of electronic sounds. Waiting Line is the debut single from an artist that's been overflowing with musical creativity since her youth.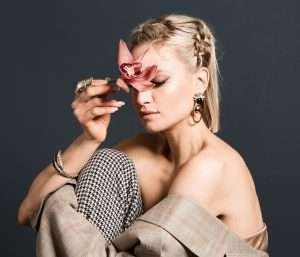 Occupied with violin, singing, writing and drawing as a child, KOII enjoyed several music projects before committing to a travel inspired song writing voyage. Going on to achieve complete freedom in 2018 after a breakdown of a restrictive relationship, KOII allowed herself to rediscover her artistic independence. Soon the energetic pop anthems flowed, unveiling KOII's first single amongst a mass of upcoming work.
KOII's feisty new single, Waiting Line, throws her distinctive vocals inside intoxicating driving rhythms and vast instrumental hums. There is an exposed beauty in the way she weaves a time restricted tale of relationship claustrophobia and distress. Craving relief, but unsure where and how that will come. KOII's lyrics capture her inimitable personality alongside an admirable amount of chaos and spirituality. Connecting to KOII's intense array of past experiences, this artist has a refined ability to talk about heart break and indecision with new found confidence.
Waiting Line is a bold debut from KOII. She expresses the need for distance whilst also showcasing confused interpretation of self-care as an unnecessary and greedy indulgence. This relatable impatience for a lover to reach minimal expectations is narrated with poetic utterances. The release of Waiting Line truly marks the much-needed conception of a brutally honest artist.

Connect KOII
https://www.instagram.com/finding_koii/
https://twitter.com/Amely37549491