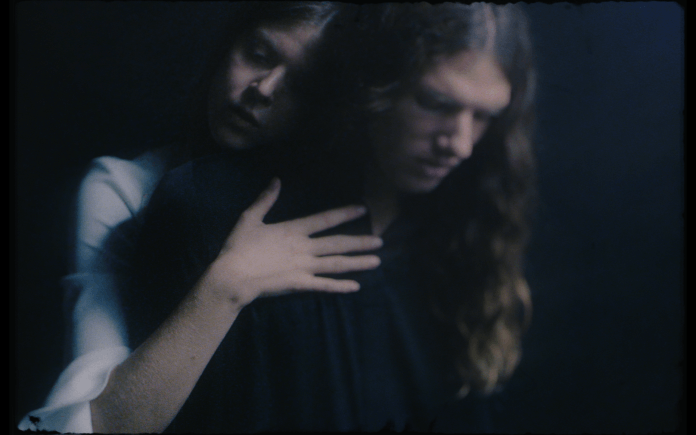 Paris-based composer and musician, Max Sokolinski announces his mesmerising debut LP, 'Before The Rain Stops' and reveals video for lead single 'Only One' featuring J.F.D.R.
Teaming up with Björk's "favourite Icelandic singer", 'Only One' demonstrates the raw and personal tone of the album whilst creating a dreamy aesthetic for the video. Directed by Morgan Preleur, the visuals play on the idea of synesthesia, marrying esoteric imagery with shots of Max and J.F.D.R embracing in a ghostly haze. The ten-track album depicts a journey of self-discovery, written after the experience of Max's first heartbreak. From the opening track 'Feels Like', Max traverses through stages of melancholic nostalgia, to the hopeful optimism of 'You're Alive'.
Having developed a penchant for music at just 8 years old, Max decided to pack up his life in France and pursue a career in music in Los Angeles in his early twenties. It wasn't long before he began to play live with artists such as Daniel Johnston and actress and musician Soko – his elder sister who he still plays with today. He eventually started working with Mathieu Chedid, writing songs for his album 'Il', which also proved to be the catalyst for his debut LP 'Before the Rain Stops' that Max played, recorded and mixed himself.
Now based in Paris, Sokolinski has immersed himself in the local industry, forming Hologram with Clara Luciani and working with the esteemed composer Michael Stevens, which lead him to scored several short films, campaigns and documentaries on his own.
The hypnotizing instrumentation and intimate lyrics create a soothing and dreamy atmosphere that is both cinematic and personal. Transitioning from a nostalgic tone to more lively melodies, 'Before The Rain Stops' demonstrates the beguiling diversity of Max Sokolinski.
https://www.facebook.com/maxsokolinski/