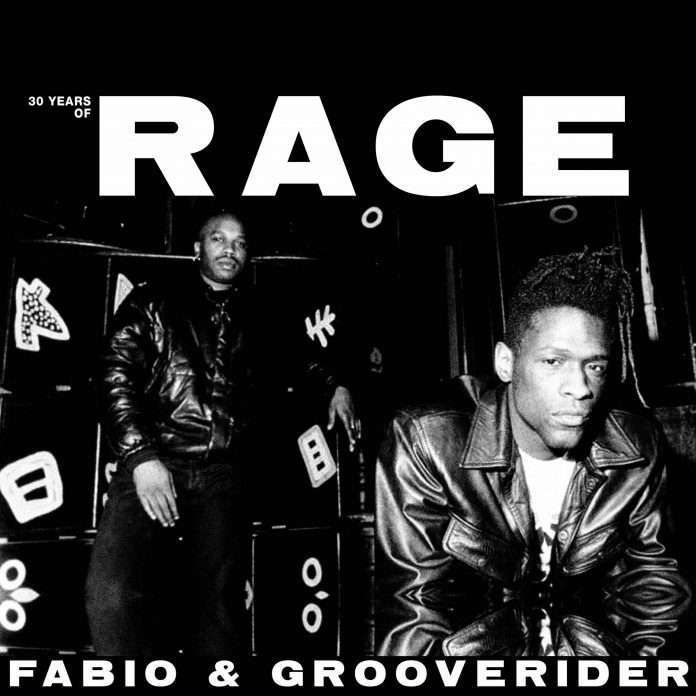 Above Board Projects has announced the release of 'RAGE', a story of the birthplace of bass music told with tracks selected by Fabio & Grooverider. The album celebrates 30 years since the launch of RAGE, the seminal weekly club night that gave a platform to the emergent UK street sounds of acid, techno, breakbeat, hardcore, jungle and drum & bass.
The RAGE compilation, a 32-track album, released in a series of four separate double vinyl LPs, double CD, digital and stream, with all tracks available on vinyl and digitally, captures the energy of the halcyon days of rave with a collection of highly-influential, game-changing records famously associated with Fabio & Grooverider, who have been at the forefront of electronic music for over 3 decades. The two London DJs are part of the DNA of the global jungle/drum & bass movement and they have remained relevant, cutting edge, authoritative and essential to this truly underground artform since its inception.
The first and second double vinyl instalments of the album will be released on Friday 31st May. 'RAGE PART 1' and 'RAGE PART 2' sees selections from Fabio & Grooveriders' groundbreaking archive including proto-jungle, breakbeat and New York deep House classics rubbing shoulders with acid house, techno and UK rave tracks. Each track is accompanied by liner-notes from Fabio & Grooverider that map out some of the intense musical journeys these tunes took the RAGE crew on. Highlights of the first brace of 2 X 12 inch releases include Wots My Code's infamous 'Dubplate' bubbles nicely alongside Ritchie Hawtin's Cybersonik motor city anthem 'Technarchy', 33 1/3 Queen's technoid house banger 'Searchin' sits shoulder to shoulder with Tic Tac Toe's monstrous 'Ephemerol'. Truly a masterclass in the sound of the underground, from the inside out.
RAGE is an album of classic underground electronic tracks that rumbled and echoed through the dark, labyrinthine, cavernous halls of London's Heaven nightclub, bringing an essential new darker alternative to club land and the global festival and rave scenes. Fabio & Groove rider's RAGE was borne out of acid house and housed in the same venue that also hosted acid house clubs Spectrum, Land Of Oz, Garage, and Pyramid in 1988 with Future and Troll in its Sound shaft back room. However, Rage added an essential grimy, urban street credibility to the genre, creating a schism in dance music when house music separated from techno and its urban, bass-fuelled manifestation on the dancefloor, known collectively at the time as hard-core, which further developed into the faster jungle and drum & bass sounds Fabio & Groove rider also pioneered at RAGE, arguably the ground zero of jungle.

The party was started by Fabio & Groove rider in 1988, at the height of Acid House fever that was making it's way up and down the motorways, slip-roads, fields and warehouses of the M25 and further beyond every weekend, troubling the nation, the police, your parents and the press as it went. RAGE was a different beast, it certainly channeled some of that Acid energy but pitted it against the new and exciting sounds emanating from Belgium, Amsterdam, Detroit, Sheffield, Essex and Hackney and in turn created a new style, a new sonic attitude and energy in the process. Rumbling bass-lines, narcotic synth rushes and roughly chopped and sped-up break beats all merged into a style that we now know as Jungle. Nothing like this had been heard before, this was a brand new style and it was coming out of London's West End and Fabio & Groove rider were the people firmly behind it.
The sonic and cultural legacy of RAGE is still being felt today, Fabio & Groove rider are still shutting down raves and festivals every weekend all over the world with their superior DJ sets and musical knowledge guided by their pioneering spirit. This musical selection you hold in your hands, the first of 4 parts, sees them delve into their prodigious memories and record boxes to select a true musical representation of the very beginning of one of the UK's most unique and influential musical movements of the last 50 years.
Above Board are releasing the first two instalments of a series of four double vinyl albums 'RAGE' on Friday 31st May 2019, ahead of the second two vinyl volumes and full album release including CD, digital and streaming versions on Friday 21st June.