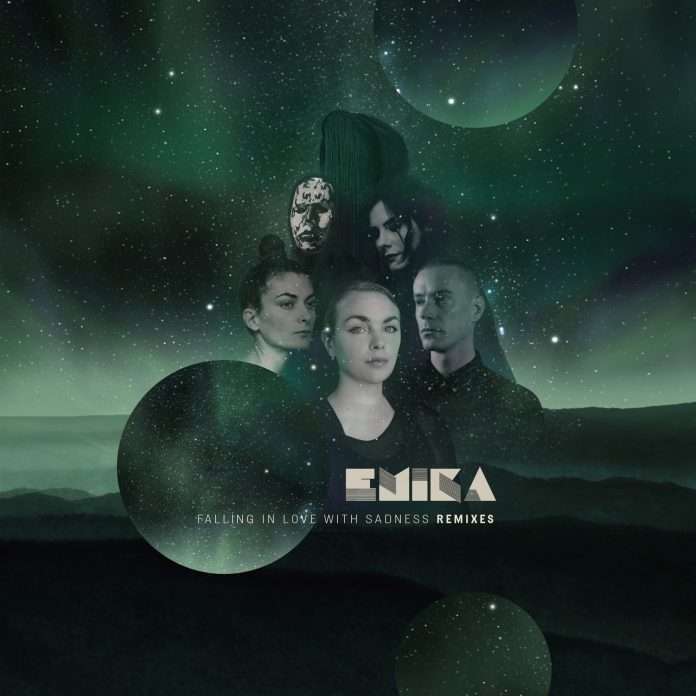 Emika – Falling In Love With Sadness Remixes
''We are moving into a new century where collaboration is going to bring music forwards and exclusivity is going to become a thing of the past.'' – Emika
Emika 's 6th studio album 'Falling In Love With Sadness' reflects a renewed understanding of Emika's own genealogy, kindred lineage and its connection to modernity. Marking a drastic departure from the menacing, stripped-down qualities of albums past, Dva and Drei; Emika has resurfaced with a new upwelling of sound gracing the bittersweet, melancholic and sanguine.
The album was released on World Mental Health Day, Oct 2018, and now one year later, Emika is set to release a very special remix EP following on. She has called upon the unique sound-worlds of electronic music's' most compelling artists. Pinch, a pioneer of UK bass-driven music, is considered to be one of the most groundbreaking, explorative producers to emerge from the UK dubstep scene. Rising techno star Julia Govor is an artist doing things differently, paving her own way with her own label, receiving recognition from the global dance music scene. Rebekah needs no introduction, pioneering her own intense sound, now entering her 20th year in the business, she is a serious artist with some seriously heavy vibes. Underground Berlin talent Headless Horseman, all though shrouded in mystery, is in high demand world-wide to perform his unique live sets at some of the biggest clubs and festivals. Not to mention Emika produced the original album material with cult electro icon The Exaltics.
This remix EP explores 4 clear sound worlds in electronic music today. Experimental bass music, hypnotic & dark techno, and electro. Pinch creates a seductive environment for a scene from which could have been from David Fincher's Fight Club, one which threatens to overload at any given time, but retains tension until the end, using Emika's voice as the narrator for the scene. Julia's mix transports us into the next part of our journey, beyond conflict and tension, she gives us the chance to breathe, open up, be free and to dance, as Emika's voice swirls around us in clouds of love. Just when you thought it was all 'red roses and blue skies', Rebekah's remix brings us hurtling back down to Earth at a tremendous pace, with crystal clear drums that wake up the soul and synths that energize the mind, this version is more than just a dark techno track, it has the spirit of a self-confident grown woman running through it. Headless Horseman brings Emika's original into a beautiful new song space, revoicing the harmony and finding completely fresh chords and backing. This mix is so inventing and technically on-point, it comes and as unexpected and gorgeous-to-listen-to final track, a perfect ending to an otherwise very edgy EP.
Emika – Falling In Love With Sadness Remixes
Release Date: 11th October 2019
Track list:
1.Eternity (Pinch Remix)
2.Run (Julia Govor Remix)
3.Falling In Love With Sadness (Rebekah Remix)
4.Wash It All Away (Headless Horseman Remix)
The artwork also hits the mark with a message important for Emika: Equality. With 3 female artists and 3 male artists all featured on the cover, this is another way in which Emika highlights her love for collaboration and sharing of the spot-light. Standing strong on the roots of past electronic music from which they all come, this EP also propels us forwards, showing us what really is possible between artists when they come together as one creative collaborative unit.
https://www.facebook.com/emikamusic