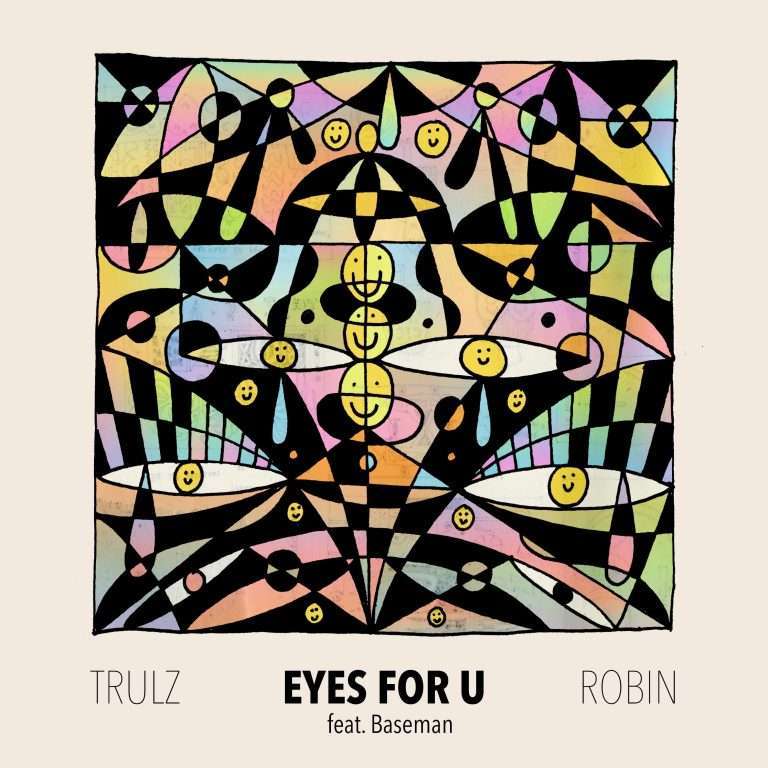 After moonlighting in the atmospheric recesses of Techno as KSMSK, Trulz & Robin return to their eponymous alias to rekindle an old partnership for two tracks featuring Baseman. The trio reunite for the first time since their 2005 collaborative LP, Intersexual, stepping right back into the groove that lingered at the end of their last outing together.
Fuzzy 303 basslines relieved from their lysergic associations and infectious rhythms, coaxed from energetic drum machines, bounce through Eyes For U and Thermo Dancer while Baseman's vocal scatterings dust the individual pieces in some freeform word associations that land on abstract rhythmical touchstones through the two tracks.
"We had two tracks that were almost ready and felt it would be amazing to get some wild vocals on them, so we called Baseman. Got him in the box and everything flowed like in the old days. We did two takes with him, just improvising and we had everything we needed." Trulz & Robin
A formidable DJ duo, a captivating live act and a serious tour de force in the studio Trulz & Robin have made severe impressions in Norway and beyond, through their LPs, EPs, live shows and DJ sets. They've found a kindred spirit in Baseman (Christian Cook), who has worked closely with the duo since 2003's Kaosmatisk. After lending his vocals and bass on a few tracks on that LP, he joined the group for a whole LP on Intersexual and the 2005 single Turn my Head.
Eyes For U and Thermo Dancer sees the trio band around the same elements, injecting a good dose of funk in the House lexicon across these two tracks. A bouncing groove ebbs while bleeping synthesisers and restless drum machines dot two very minimalist arrangements from the group. Cook's vocal add that human dimension to the robotic rhythms of the machines.
release date:December 13th, 2019
Tracks
A Eyes For U
B Thermo Dancer
https://www.facebook.com/TrulzandRobin/