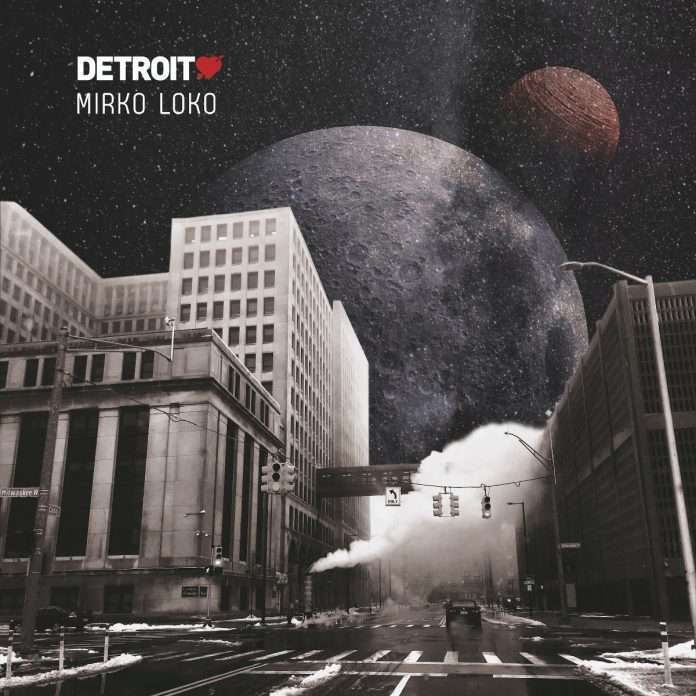 Following contributions from Carl Craig , Stacey Pullen and Wajeed, Swiss DJ and producer Mirko Loko steps forward to mix the fourth volume of Planet E's mix series, Detroit Love. Active since the late nineties when he first began DJing in the clubs of Lausanne, Switzerland, Mirko Loko has always felt a deep connection to the music of Detroit. Having been personally invited by Carl Craig to play at the Detroit Electronic Music Festival in 2001, that connection has stayed consistent and electric ever since. Mirko Loko is also known as a Cadenza mainstay and a curator of Verbier's Polaris Festival, but the music of the Motor City has been the guiding force of his creative career.
Released on digital and vinyl formats, Mirko's selection offers a taste of Detroit that intermingles emerging talent and the deepest cuts from established heroes. Mirko has loaded the mix with exclusive productions & remixes including new collaborations with Derrick May and Ursula Rucker; an updated version of his classic recording with Stacey Pullen, 'Tronic Illusion'; an exclusive remix of Japan's Takuya Yamashita; and a new track under his Bel Air Ltd alias. Each of these will be available on the vinyl edition, alongside the tracks from Phase Force, Lady B and a heretofore unreleased Carl Craig edit of DJ Deep & Romain Poncet's Sergie Rezza project.
The mix encompasses the unparalleled deepness of Fred P, transitioning into Villalobos's catchy and percussive remix of Feater and the dense atmospheres of Chaos In The CBD. Exquisite minimalism drives the narrative forward, particularly on Stil's hypnotic 'Haile Selassie Is The Micro Chip' and the lush 'My Own Transition' from Eduardo De La Calle.
As Loko's ode to the Motor City blossoms, 'Pressure' is quite literally introduced with Laurent Garnier's take on a track by fellow Frenchman, Glib'R, preluding a percussive delight from the vaults on DJ Duke. 'Music Cinema.' Soon, the mix intersperses the past and present legacy of Detroit house to stirring effect, leading towards tougher-edged, acid-flecked euphoria from legendary figures such as Jared Wilson and L.B. Bad.
"The influence of Detroit on music all over the world is immeasurable. Like so many others, my relationship with music was inspired and forever marked by the talent and genius of Detroit & midwest USA's musical pioneers, and we all owe the city and its cultural legacy a huge debt. This mix is my small way of saying thank you to the city." – Mirko Loko, 2020

Mix tracklist (CD/digital):
01. Fred P – Vision In Osaka
02. Mirko Loko ft. Ursula Rucker – It's Like (Detroit Love Mix)
03. Feater – Time Million ft. Vilja Larjosto (Villalobos Vocal Mix)
04. Chaos In The CBD – Comfort Zone
05. Sergie Rezza – Monté (Carl Craig Edit)
06. Still – Haile Selassie is The Micro Chip
07. Takuya Yamashita – Aos Si (Mirko Loko's HOS Remix)
08. Eduardo De La Calle – My Own Transition
09. Scott Ferguson – Dump Days
10. Wincent Kunth ‎– Relove
11. Phase Phorce – Faces Of Life
12. Adryan – The Jazzer (Russ Gabriel Remix)
13. Mirko Loko ft. Derrick May – Mentors Heritage (Detroit Love Mix)
14. Gilb'R – Pressure Laurent (Garnier Mix)
15. Bel-Air Ltd – The Loft
16. DJ Duke – Music Cinema
17. Tevo Howard – Madness
18. The Prince Of Dance Music, L.B. Bad – The True Story Of House Music (I'm So Alone)
19. Jared Wilson – It's The Message
20. The Godson – City Bar "Reopen" Live Dancing
21. Mirko Loko & Stacey Pullen – Tronic Illusion (Detroit Love Mix)
22. Lady B – Cruising Around Motor City
Vinyl tracklist (unmixed):
A1. Mirko Loko ft. Derrick May – Mentors Heritage
A2. Mirko Loko ft. Ursula Rucker – It's Like
B1. Mirko Loko & Stacey Pullen – Tronic Illusion (Detroit Love Mix)
B2. Bel-Air Ltd – The Loft
C1. Sergie Rezza – Monté (Carl Craig Edit)
C2. Takuya Yamashita – Aos Si (Mirko Loko's HOS Remix)
D1. Phase Phorce – Faces Of Life
D2. Lady B – Cruising Around Motor City
Preorder here
https://www.facebook.com/mirko.loko.official/