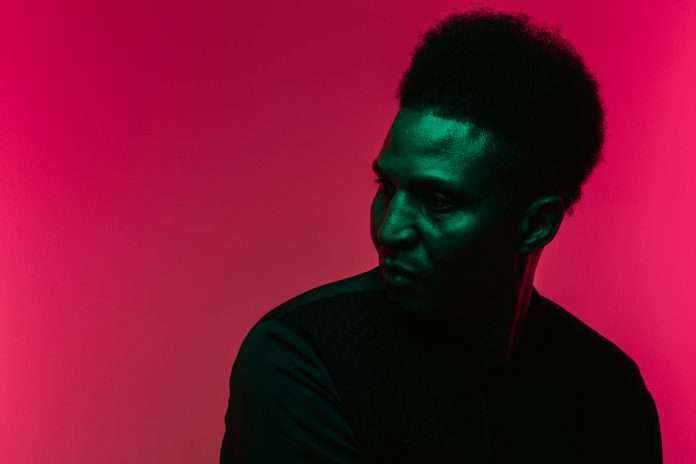 On 6th November the free-thinking Bristolian master Krust takes us on a powerful and profound ride with 'The Edge Of Everything' – his first longplayer in 14 years. The pre-eminent electronic icon, who continuously blew minds throughout the 90s and 00s has fully returned from his hiatus, rejuvenated and artistically liberated, with a vividly transportive and transformative work unlike anything else.
Around 2008 Krust left behind major success, taking time out to re-think and rearrange via philosophical, mental and creative processes, which he now applies to recording, with an approach he describes as "80% psychology and 20% mechanics, to strive for authentically unique and original music". And the results really show; this is Krust as futurist revisionist, on his best ever form, making exhilarating standout tracks of depth and substance, that're light years ahead.
The sound is identifiably Krust, but now wider, deeper, freer, more intense and more fully-realised, beamed-in from the edge of the universe, in a transcendental cerebral netherworld. If past anthems like 'Warhead' and 'Soul In Motion' gave you a peek through the creator's doors of perception, here they are flung wide open, pulling you across into awe-inspiring new dimensions.
Inspired by everything from Christopher Nolan to Hegel, Martin Scorsese to The Kabbalah, Krust is ready to shake things up with his wildly engrossing new sonic story. On this multi-layered masterpiece intwined threads run simultaneously, operating as gripping fantasy tale, profound trip into Ego death, personal expression and observation on oppression.
With Krust thinking "how will I make this scene work?" like a director, 'The Edge Of Everything' is as much a movie as it is an album, with a combination of adventure and brains that shares kinship with the metaphysical blockbuster 'Inception.' In turns psychological thriller, action romp and sci fi space opus, the LP has a narrative arc which charts a recondite journey to far beyond and back, full of detours and levels.
Although primarily an escapist fable, 'The Edge Of Everything' also has a practical message for aiding both creativity and global society. Championing embracing the unknown and tackling the uncomfortably unfamiliar, an unnamed protagonist faces the precipice, with no choice but to take a leap of faith. Diving headfirst into unexplored realms, a profound and perilous quest of self-discovery is undertaken, during which they must reach a higher state, and change forever, for the better.
"This is something everyone on earth is faced with now; as we go further into the abyss of unprecedented times, uncertainty and turmoil, we have to face the reality of our future and adapt", comments Krust. "Even if we're dragged kicking and screaming, we're going into a new world, whether we like it or not. Some people are reluctant to do something different, but I'm pushing forward to show our capabilities. We don't need be afraid. We have to embrace change, deal with life in a new way, and find different approaches. We're at a fork in the road and there's no way back."
"It's the same with certain scenes and styles, which musicians shouldn't feel handcuffed to", adds Krust, who here is elevated way above standard floor-focussed confines. "We shouldn't try and maintain the status quo; it's gone now anyway! We need to take risks. Do we want new and wonderful, or more of the same?"
Although a universal hero/heroine, it's possible this character is in fact an avatar of Krust himself, who following a breakdown left his regular life as DJ/producer and entered uncharted territory. "I walked away; took a step back to discover new things. I went on retreats and workshops, meditated, studied beliefs and neuro-linguistic programming, and thought a lot about creativity and consciousness. I also had to really consider, 'who is Kirk Thompson'?"
Jumping straight into this high-octane adventure with intense, awakening effect, 'Hegel Dialectic' embarks with signposts to familiar genre motifs, but changed and unusual, like a dream world where identifiable landmarks are warped and morphed, with events that are fantastical.
Already deep into new patterns with a disregard for structure tropes, 'Constructive Ambiguity' is an engrossing and unpredictable speed through various atmospheres and environments. A space-shuttle-bassline bounces through an asteroid shower at high velocity, slowing at intervals when the cosmos becomes temporarily clear.
Using Nasa terminology for the point-of-no-return, the g-force heavy 'Negative Returns' hurtles further into the future, fuelled by what Krust describes as "cognitive dissonance", where styles collide in new a reality.
'Antigravity Love' is a collaboration with director Michael Williams, who wrote the monologue to which Krust composed around. Part Afro Futurist love poem, part current affairs tirade and part '12 Monkeys' style mad rambling, it captures the confused frustration of someone untethered and lost, searching to find their way.
Like dreams-within-dreams, by the frantic psychedelic power of 'Seven Known Truths' we've gone deeper into a dangerous but necessary experience – one from which we may never return – but must be undertaken, in order to reach for awakening.
A distant alien cousin of the classic V sound, 'Deep Field Of Liars' evokes the psychoanalytical peeling-back of layers, accessing long buried memories. When making the record, Krust deconstructed his perception of self. "I shattered my usual preconceptions, life patterns and working methods, scattered them across the galaxy, explored the unknown guided by stars, gathered the shards, and returned – reassembling them into brand new shapes", he recalls.
Referencing the Kabballah's highest emanation, by 'Keter The Heavenly' the movie's star has gone through "7 truths and 7 layers" – now headed towards enlightenment. The mood lightens, with buoyant rhythms that float through this elevated place en-route to somewhere celestial, only to find on 'Space Oddity' that we're far from the summit, and are plunged into a skittering industrial dystopia.
By the story's end, spiralling otherworldly forms, dramatic synth cascades and bass waves swell in massive ways, and the profundity of this epic experience really becomes evident. 'Only God Can Tell' indeed.

Krust 'The Edge Of Everything'
Vinyl / CD / download / stream
Out 6th November
Track-list
1. 'Hegel Dialectic'
2. 'Constructive Ambiguity'
3. 'Krust – Negative Returns'
4. 'Antigravity Love'
5. 'The Dust Fell Off'
6. 'Known Truths'
7. 'Deep Fields Of Liars'
8. 'Keter The Heavenly'
9. 'It's A Lot'
10. 'Space Oddity'
11. 'Only God Can Tell'
Keen to seek new paths and subvert the norm, Krust opted to release via Crosstown Rebels following the fervid advances of Damian Lazarus. The pair have a longstanding history, which began when the label owner played drum & bass in his former DJ duo, PM Scientists.
Photo Credit James Hacker
https://www.facebook.com/Dj.Krust