OMD Announce New LP, Share "Bauhaus Staricase" Single + Video
Bauhaus Staircase LP Due October 27 via White Noise
Playing Darker Waves Festival in Los Angeles on November 18
Over the past four decades — give or take a decade break — the illustrious and critically acclaimed Orchestral Manoeuvres In The Dark (OMD) have sold over 40 million records worldwide, establishing them as electronic synthesiser pioneers and one of Britain's best-loved pop groups. Their 13 long players include benchmark-raising classics Orchestral Manoeuvres In The Dark (1980), Organisation (1980), Architecture & Morality (1981), and Dazzle Ships (1983). OMD conquered the United States, and yielded the 1986 hit, "If You Leave" from the Pretty In Pink Soundtrack. They have also achieved 12 top 20 hits on the UK Singles Chart, as well as three top 20 hits on the US Billboard Hot 100.
Following the celebration of their 40th anniversary last year, today, OMD return with the announcement of their first new studio album since 2017's highly praised The Punishment Of Luxury, a record entitled Bauhaus Staircase, due October 27, 2023.
The forthcoming Bauhaus Staircase is regarded as OMD's most explicitly political record and the crowning achievement of their desire to be both Stockhausen and Abba – born from the impetus to kickstart new explorations during lockdown when, as Andy McCluskey admits: "I rediscovered the creative power of total boredom."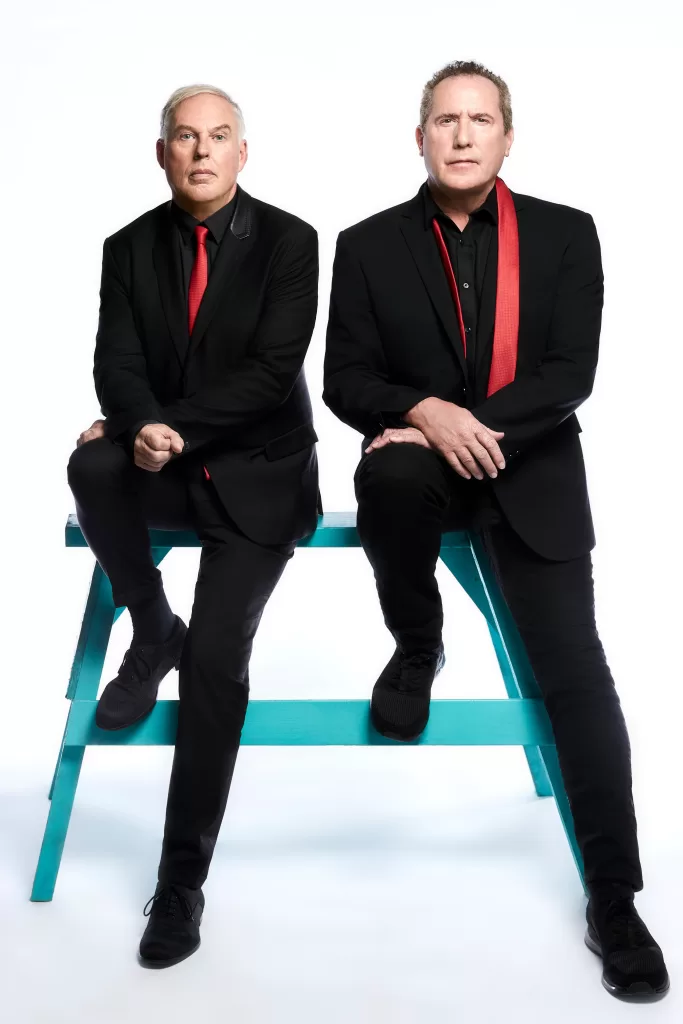 Predominantly written, recorded, and mixed by both McCluskey and Paul Humphreys (who has recently become a second-time father), Bauhaus Staircase's other main external influence was David Watts, mainly known as a rock producer who helmed Sheffield band The Reytons' recent No 1 album and mixed two tracks on the new OMD record.
Ranging from the beautiful film noir ballad of "Veruschka," to "Anthropocene" (a term for the current epoch in Earth's evolution), to the sinister "Evolution Of Species," and the hectic "Kleptocracy" (OMD's greatest straight-up protest song), the new album is a broad, electronic, sonic masterpiece that lyrically tackles the topics of the future. The record closes on "Healing," a moment of reflective calm and a rare OMD co-write, with lyrics by McCluskey's friend, Liverpool singer-songwriter Caroline England, and production from ATOM.
With Bauhaus Staircase, OMD have created a landmark album worthy of their finest work. It remains unmistakably the work of a duo who are still perfectly in sync 45 years after their first gig at legendary Liverpool club Eric's. "I'm very happy with what we've done on this record," McCluskey summarizes. "I'm comfortable if this is OMD's last statement."
Bauhaus Staircase – TRACKLISTING:
01. Bauhaus Staircase
02. Anthropocene
03. Look At You Now
04. G.E.M.
05. Where We Started
06. Veruschka
07. Slow Train
08. Don't Go
09. Kleptocracy
10. Aphrodite's Favorite Child
11. Evolution of Species
12. Healing
To accompany the record's announcement today, OMD have additionally shared an animated video for the record's title track and first single, "Bauhaus Staircase," which serves as a nod both to Andy McCluskey's love of the Bauhaus era and the power of protest art.
As McCluskey wrote on the single itself:
"I am a huge lover of visual arts, especially mid 20th century movements. I reference them often in my titles and lyrics. The song 'Bauhaus Staircase' is a metaphor for strength and artist passion in the face of criticism and adversity. The title is derived from an Oscar Schlemmer painting. He taught at Bauhaus, and created the amazing futuristic costumes for The Triadic Ballet (referenced in the song).
When times are hard there is a tendency for Governments to look at cutting funding for creativity, just at the moment when the arts are most needed to nourish our souls. Thus, it seems appropriate that the song and its eponymous album were created during Covid Lockdown.
Sonically, the track attacks you instantly with rasping analogue synths, soaring electronic melodies, and pounding 808 drums. And the energy just keeps ramping up for four minutes."

OMD Playing Darker Waves Festival in Los Angeles on November 18
In celebration of their forthcoming record, OMD will perform alongside New Order, Tears for Fears, Soft Cell, The B-52s, DEVO, Echo & The Bunnymen, The Psychedelic Furs, and many more at 2023's Darker Waves Festival, taking place Saturday, November 18 in Huntington Beach, CA.
Tickets and more information can be found HERE.
Follow
https://omd.uk.com/