Today #dubikspremiere is Lorenzo Delfino & Elum with Jupiter out April 20th on Astrophone Records
Nr.1 on #dubiksmusiccharts TOP 30 Melodic Chart April 2018 #besttracksofthemonth
The excellent collaboration with Elum is 'Jupiter,' a darker and deeper cut built on two carillons that create all the mood of the track. Celestial leads and voices come in mid way through to take things to a new emotional level, and hi-hats and claps add real rhythm.
The eighth release on the innovative Astrophone Records label is an excellent debut for Lorenzo Delfino. He provides one solo single and one in collaboration with Elum, while fresh remixes from Andrea Calandra and Claudio Masso seal the deal.
Delfino fell in love with dance music in his teens in Genoa, and soon put on his own events. They helped him grow his DJ profile and play places like Off Week and in Berlin, while his sound in the studio has developed into a melodic take on techno that is designed for peak moments in the night. Elum, meanwhile is a drummer, Astrophone and Trax artist and alumnus of the Fonderie Sonore school in Rome.

Preorder now Exclusive at Traxsource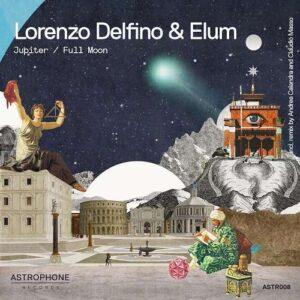 https://web.facebook.com/lorythedolphin/
https://web.facebook.com/elumofficial/
https://web.facebook.com/astrophonerecords/