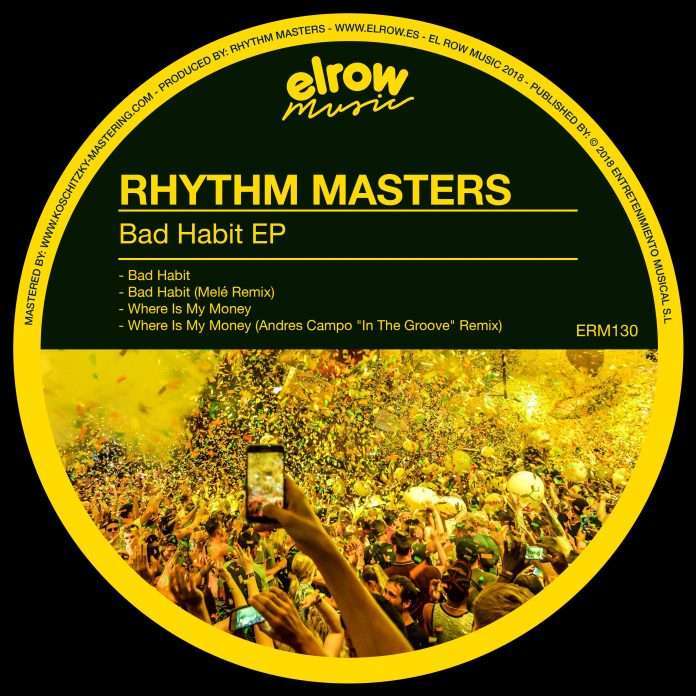 May is here, summer is closer and Ibiza is in the horizon for elrow Music and all of you, avid ravers, eager for dancing sounds! Your label of choice is back with another great debut in our ranks: British long lasting duo, Rhythm Masters.
Reaching our EMR130th reference the lads deliver a great two tracker with remixes by Mele and our dear friend Andres Campo, adding extra dopeness to the overall result. Opening the EP is the title track, ͚Bad Habit (Original Mix)͛, a track with a strong, tight percussion and echoing effects, that progresses adding more elements till introducing the looping vocal line, which gives the track a very distinctive character, resulting in a very danceable track.
Melé, one of the new international Dj residents of the elrow brand, take on͚ Bad Habit comes after, in which the British artist uses a more minimalistic progression, a looser percussion with claps, and leaves the vocal loop in the background, turning the banger into a more transient track.
Then we have the second original of the EP, ͚Where͛s MyMoney (Original Mix)͛, that infuses us with the same danceable vibe of the first track, adding metallic, almost robotic FX, and a melody that appears by the middle of the track, with a ghetto kind of vocal loop, that turns almost into an extraterrestrial cry.
Finally, closing this work we have ͚Where's My Money (Andres Campo On The Groove Remix)͛, a track in which Andres Campo infuses the track with a more techno-like vibe, maintaining the focus around the vocal, and turning the progression into a more groovy and steady issue, with percussion loops and a powerful synth line that builds until breaking in true dancefloor madness, like in any elrow party.
release date:May 11th, 2018
Tracklisting:
1.Rhythm Masters – Bad Habit (Original Mix)
2.Rhythm Masters – Bad Habit (Melé Remix)
3.Rhythm Masters – Where's My Money (Original Mix)
4.Rhythm Masters – Where's My Money (Andres Campo On The Groove Remix)
Big up for Rhythm Masters and the rest of the guys in this high rolling EP… and keep your eye and ears on us! As this summer will come packed with dancing surprises..
https://www.facebook.com/RhythmMastersOfficial/