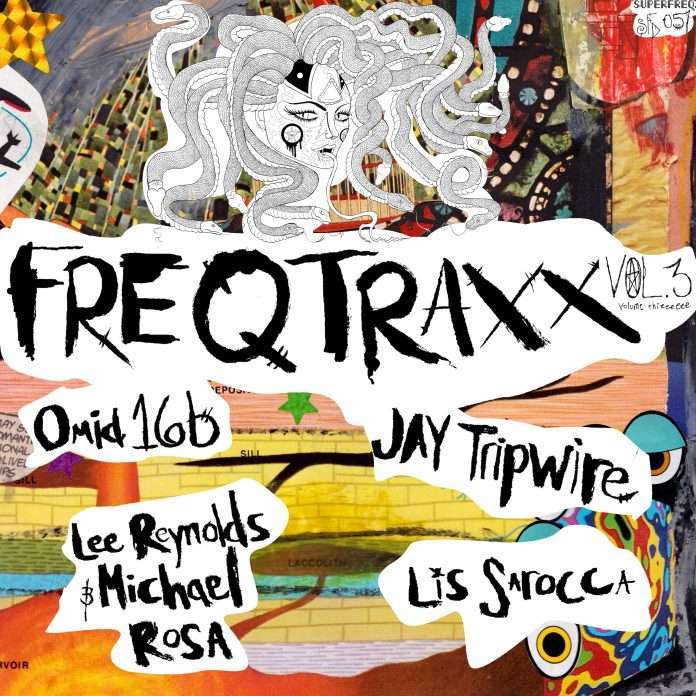 Freq Traxx is an EP compilation series that exposes new or previously unreleased gems from its regular stable of artists, good friends and deserving up and comers. The third volume in this series welcomes Omid 16B, Lee Reynolds and Michael Rosa, Jay Tripwire and Lis Sarocca.
First up is the legendary Omid 16b who enters the fold with his debut solo track for the label. 'No' is a solid dance floor number with crunching beats, a groovy bassline and cheeky acid stab hits that carry an atmospheric spoken word vocal. Desert Hearts' Lee Reynolds and Denver-based Michael Rosa's are next up with the excellent 'Raw Dog,' which exhibits why the pair have captured the hearts and minds of underground dance floors and Burning Man camps from Black Rock City to Berlin. A solid groove introduces the tracks while tripped out percussion and vocal hits are encapsulated by warm synths & pads. Keep an eye out for a new collaborative release from Lee and Memo Rex on Superfreq soon.
Canadian producer Jay Tripwire is a regular on this label and here is at his very best. 'Down With The System' is a no-holds barred dancefloor filler with solid beats, rich throbbing bass, oscillating pads and haunting vocal refrains that are sure to cast a spell on the floor. Last of all, Barcelona-based producer Lis Sarroca makes her Superfreq debut following releases on trusted imprints like Better On Foot, Oblack Label and Tenampa Recordings. Her 'Patterns' is a deep, pulsing affair with superb chord stabs retaining the track's trippiness as the rhythm builds and the tension keeps you hooked.
Release Date:19-04-2019
Tracklist:
1. Omid 16b – No
2. Lee Reynolds & Michael Rosa – Raw Dog Acid
3. Jay Tripwire – Down With The System (Version 1)
4. Lis Sarocca – Patterns
https://web.facebook.com/superfreqrecordlabel/