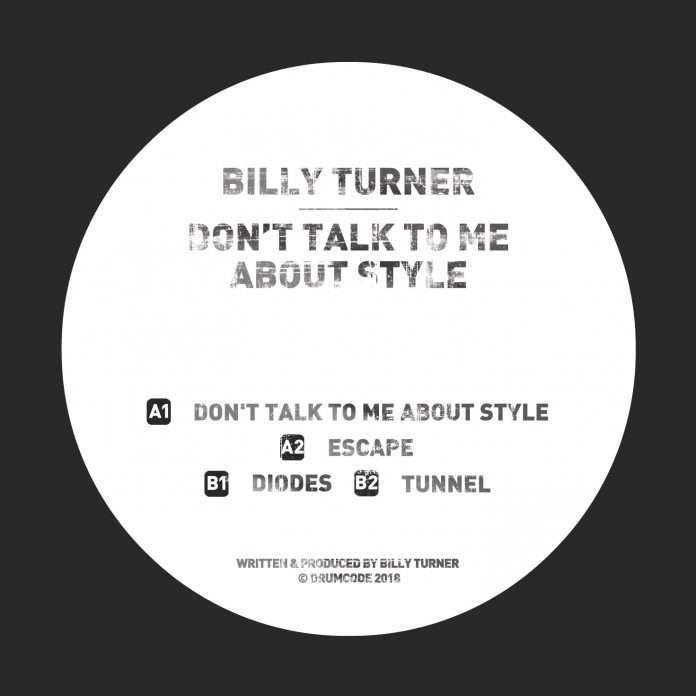 The hotly tipped UK artist makes his debut for Drumcode's vinyl only off-shoot.
Focused on showcasing cutting-edge underground techno, Adam Beyer's always got an eye on the future when curating Drumcode Ltd. With impressive releases on Tiga's Twin Turbo and Dense & Pika's Kneaded Pains imprint, 24-year-old Billy Turner piqued his interest with his accomplished productions that belied his tender age.
Taking inspiration from the likes of Marcel Dettmann, Truncate and Planetary Assault Systems, Turner's four-track debut 'Don't Talk To Me About Style' was birthed in his home studio throughout 2017. The industrious Brit delivers a powerful peak-time EP of nocturnal techno that moves between different moods. The title track pops with a thick grinding bassline and trippy synth effects, before 'Escape' envelopes you into a subterranean world. 'Diodes' follows, a fantastic slice of electrifying techno that bucks like a rodeo bull. The EP concludes with the blazing 'Tunnel', that makes its mark with deft drum arrangements and a piercing call-to-arms siren.