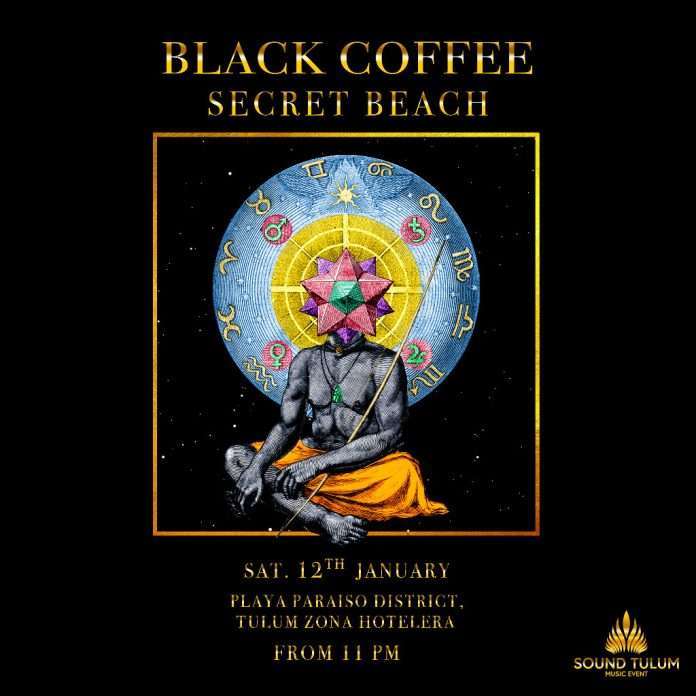 On Saturday 12th of January 2018, Sound Tulum welcomes Black Coffee, one of the most influential figures in the contemporary electronic scene, to weave his magic from the idyllic surroundings of the Mayan Riviera. After the huge success of their inaugural festival, the 2nd edition of Sound Tulum is set to take place at numerous incredible locations in Tulum, Mexico between December 29th, 2018 and January 13th, 2019.
In addition to the festival´s already planned programme of events, Sound Tulum is shaking things up by adding an intimate and exclusive, reduced capacity gathering headline by South Africa's Black Coffee to take place on January 12th in a location described mysteriously as a "Secret Beach".
Over the last year, Black Coffee (real name: Nkosinathi Maphumulo) has fully cemented his presence in the major leagues of international clubbing. Widely admired and respected for his knowledge, experience and high level of artistry, Black Coffee has stood out for his natural ability to blend house with soul, alternative African percussions, organic sounding electronics, jazz elements and vocals. As the worldwide champion of the "Afro-House" sound, the South African artist's sets are journeys into the depths of exquisite house underpinned by his emotive touch and warm grooves that drive every audience to wild abandon.
The extended line-up for this exclusive party will be revealed shortly over the coming days. But rest assured, with one of the most important electronic artists of the last decade at the helm, this is guaranteed to be one of the most anticipated, expertly curated events of the Sound Tulum series.
Tickets are on sale now via: http://bit.ly/BlackCoffeeSoundTulum
https://web.facebook.com/soundtulum