Chrome Sparks – Be On Fire
Chrome Sparks (aka Jeremy Malvin) returns with new EP Be On Fire, released via Counter Records (a Ninja Tune imprint), the follow-up to his self-titled debut album released earlier in 2018. He takes the same all-inclusive, dreamily-realised approach, lacing together a patchwork of wide-reaching influences. On 'June Lion', an ecstatic arsenal of synths are layered over a half-time trap beat, building skywards to an overclocked conclusion. An '80s boogie groove is the bedrock of 'Be On Fire', voice-box vocals and lush keys adding to the smooth, downtempo feel. 'Ultraviolet Rainbow' sounds how you'd expect: rainbow-beam synths and bright-sparkling arpeggios, combined with a turbocharged hip-hop bounce. In comparison, 'I Could Be The Voice Inside Your Head' is woozy and relaxed, notes bending elastically in and out of shape, tinged with an air of melancholy.

Lead single 'In2 Your Love' is a sandblast of synths, heavy-hitting drums and lo-fi 80s soul, inspired by the idiosyncratic demos of George Smallwood, whose music he's become obsessed with since a friend recently introduced it to him, and whose sampled vocal served as the starting point for the track. Malvin's hip-hop-indebted, energy-drenched style lights up his source material, paying homage to Smallwood's freewheeling spirit, while turning it into something new. "The result is a track that I feel pays homage to an under appreciated musical gem and surrounds it with a breath of new spirit," Malvin says.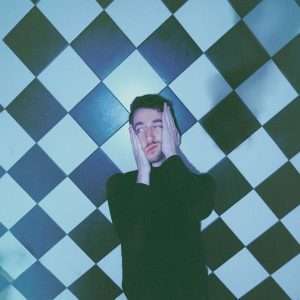 Malvin is based in Brooklyn, but grew up in Pittsburgh and spent formative time in Ann Arbor, before settling east and converting a legion of supporters to his deftly hybridized sound. Support has come from Pitchfork, Dancing Astronaut, Indie Shuffle, and FADER. He debuted in 2012 with "Marijuana," a Bandcamp compilation track turned Internet phenomenon (organically rocketing to #1 on HypeMachine and racking up over 30 million cumulative streams to date). He's released music via Future Classic (including subsequent breakthrough track "Moonraker"), remixed Chet Faker, Porter Robinson, Fred Falke and Blackbird Blackbird among others, and played sold out shows throughout North America, Australia, New Zealand and Asia. He's toured with the likes of Flume, Odezsa, Bonobo and Diplo, and released his self-titled debut album in Spring 2018, peaking at #1 on Apple Music's Electronic chart and receiving heavy support from Spotify and Lauren Laverne on BBC 6 Music.

Digital Tracklist
1. In2 Your Love
2. Juno Lion
3. Be On Fire
4. Ultraviolet Rainbow
5. I Could Be The Voice Inside Your Head

2019 North America Tour:
16 Jan 19 Empire Control Room & Garage Austin, US
18 Jan 19 The Crescent Ballroom Phoenix, US
19 Jan 19 191 Toole Tucson, US
20 Jan 19 Constellation Room Santa Ana, US
23 Jan 19 Teragram Ballroom Los Angeles, US
24 Jan 19 August Hall San Francisco, US
26 Jan 19 The Catalyst Atrium Santa Cruz, US
29 Jan 19 Neumos Seattle, US
30 Jan 19 Wonder Ballroom Portland, US
31 Jan 19 Fortune Sound Club Vancouver, CA
02 Feb 19 Neurolux Boise, US
04 Feb 19 Urban Lounge Salt Lake City, US
05 Feb 19 Fox Theatre Boulder, US
07 Feb 19 7th Street Entry Minneapolis, US
08 Feb 19 High Noon Saloon Madison, US
09 Feb 19 Lincoln Hall Chicago, US
10 Feb 19 The Hi-Fi Indianapolis, US
13 Feb 19 The Ready Room St. Louis, US
14 Feb 19 Mercy Lounge Nashville, US
16 Feb 19 Aisle 5 Atlanta, US
19 Feb 19 Kings Raleigh, US
21 Feb 19 Skully's Columbus, US
22 Feb 19 El Club Detroit, US
24 Feb 19 Velvet Underground Toronto, CA
26 Feb 19 Theatre Fairmount Montreal, CA
27 Feb 19 The Sinclair Cambridge, US
28 Feb 19 Music Hall of Williamsburg Brooklyn NY, US

https://web.facebook.com/chromesparks