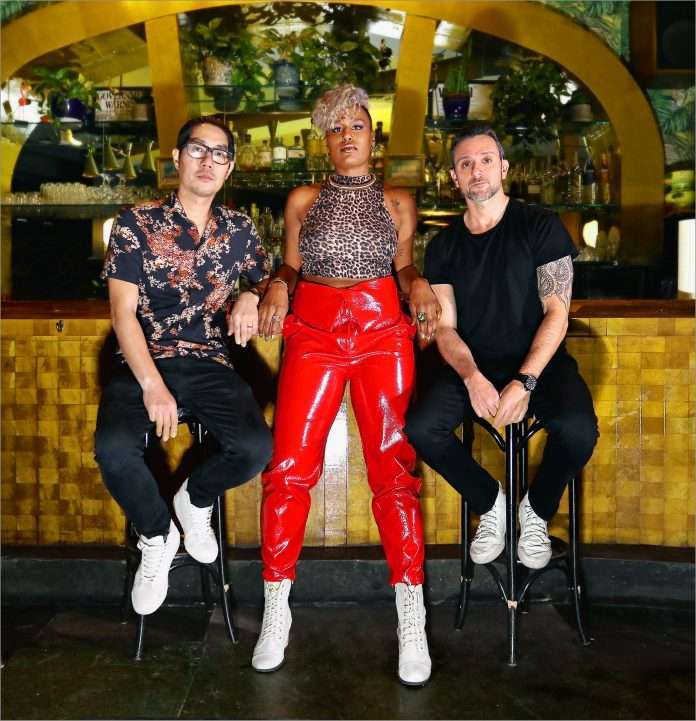 Today, disco outfit Escort announced their long-awaited new album City Life set to release on April 12. Their most expansive and collaborative album yet, City Life teems with the urban kinetic energy hinted at in the album's title—ten tracks spanning dub reggae, house, Brazilian pop, and the glittery shine of disco equally suitable for your headphones and a night out on the town.
"We tried to put something together evoking the feeling of Fonda's records," Cho shares about collaborating with legendary vocalist Fonda Rae. "We were nervous to send it to her—here's something that's inspired by you!—but she was totally into it. It was great."

Longtime listeners, will notice the abundance of new voices on the new album — specifically, vocalist Nicki B, who appears both in lead and background form throughout and is Escort's new lead vocalist — replacing longtime frontwoman Adeline, who's since gone on to pursue a solo career. Guests include NYC disco-R&B icon Fonda Rae, Lone Ranger, and Brian Jackson best known for his fusion of political jazz, blue and soul in partnership with Gil Scott-Heron. Adeline also appears on several tracks.
Escort is incorporating a leaner, meaner stage setup for the City Life live show. With a national tour kicking off April 17 in NYC, they're connecting more than ever with the beating heart that is dance music's communal pulse. "There's a difference between music you can dance to and dance music," Cho explains while discussing the band's current mission statement that City Life represents. "We try to strike a balance—you can nod your head to it and feel a dance-y groove, but there's a specific direction we're coming from too. This is live dance music, and we try to make stuff we can share to a live experience."
From the syncopated bass hits of the intro to "Ride"'s piano stabs and palm-muted guitar, Escort draw on a mix of contemporary and classic influences throughout—from the sounds of NYC dance music circa the late 1970s and early '80s to the various permutations of disco and house music that continue to keep bodies moving this very day.
Escort National Tour Dates
4/17: Brooklyn, NY @ Elsewhere
4/18: Washington, DC @ U-Street
4/19: Denver, CO @ Cervantes
4/20: Boulder, CO @ Boulder Theater
4/21: Seattle, WA @ Neumos
4/23: Vancouver, BC @ Fortune Sound Club
4/24: Portland, OR @ Doug Fir
4/25: San Francisco, CA @ Rickshaw Stop
4/26: Los Angeles, CA @ The Echo
6/27-6/30: Rothbury, MI @ Electric Forest