House music veteran Angel Moraes lands on Griffintown Records with a treat for the Disco House heads as he unleashes his new 'Dancin Wit My Baby EP' .Armed with 2 massive feel-good groovers, the title track oozes chic and sparkle for the dance floor with its cut up vocals and string and brass hooks bubbling over a bumping baseline, and 'The Love Song' a slower sensual soulful groove fired up with loved up vocal loops for the soulfully inclined. Also on the package the mighty Darius Syrossian takes 'Dancin Wit My Baby' and slams out some monstrous big room heat primed with a big bass, filters, loops and string filled breakdowns to bring the house down.
'Dancin Wit My Baby EP' will be released on April 12th 2019 on Griffintown Records.
Track listing
1. Dancin Wit My Baby (Original mix)
2. Dancin Wit My Baby (Darius Syrossian remix)
3. The Love Song (Original mix)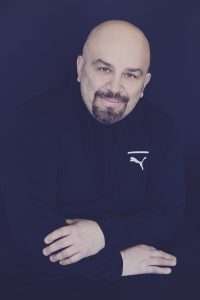 With a career spanning more than 25 years, the name Angel Moraes has become synonymous with excellence and a true mastery of his various crafts. During the early 90's his early productions such as 'Release Yourself', 'Heaven Knows', 'The Cure' and 'Welcome To The Factory', among others, on his own Hot n Spycy imprint, broke Angel into the biz with a new sound like nothing ever before heard. Since then Angel has built a huge portfolio of productions over the years including club anthems such as 'Burnin Up', 'To The Rhythm', 'Sleeping Faster', 'The Freaks', 'When The Rain Falls', and timeless vocal cuts 'Music Is Your Life', 'Your Love Is All I Need and his most recent release on Nervous, 'Do It To Me'. Angel has played all over the world, Dubai, Bahrain, Athens, Naples, Paris, Barcelona and Ibiza to Japan and beyond. Also known for his sound technical abilities, Angel designed, built and installed the Stereo club sound system in Montreal and more recently ANALOG's Sound system in Brooklyn. He's also creating a venue in Barcelona and has built a monster sound system which people are already calling the best sound they've ever heard. With a slew of new productions on the horizon this man is taking things to another level yet again!
Darius Syrossian is one of the biggest names and top selling producers in dance music right now. Having played gigs at every major club and festival in every continent, he has also produced and released music on labels such as Moon Harbour, 8 Bit, Hot Creations, Get Physical, We Are The Brave and his own label Moxy Muzik. Recent years in Ibiza have seen Darius hold down residencies at Space Ibiza, Vista club and Sankeys Ibiza, as well as guest slots at DC10 and in 2018 his residency at Amnesia, playing alongside superstars like Cassy, Martin Buttrich, Floorplan/Robert Hood, Alan Fitzpatrick, Josh Wink, Nick Curly, Point G, DJ Sneak and many more.
https://www.facebook.com/griffintownrecords/
https://www.facebook.com/DJAngelMoraes/
https://www.facebook.com/darius.syrossian/