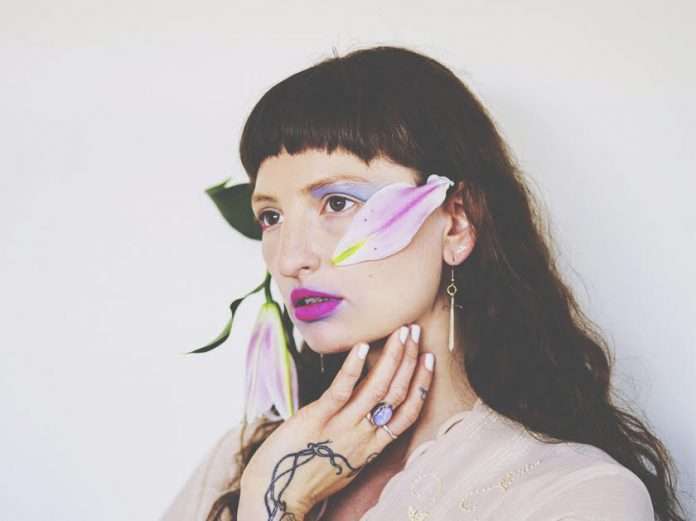 Calgary alt-pop artist Selci celebrates today's release of her gorgeous, otherworldly debut EP, Effervescence, with a live video for third single, 'We Could Be Together'. Recorded inside Selci's Calgary apartment, 'We Could Be Together' soothes and sparkles at the hands of jazzist Timothonius on keys, and features Calgary producer Egypt on beat pad and young singer Heidi Shanklies.
"Doing this video was the start of getting a band together," Selci says. "I've collaborated with Timonthonius in the past, but It was my first time playing live in this configuration. All of the songs on the EP are drenched in harmonies, so I'd love to add more singers and continue experimenting with different musicians."
The song itself grapples with falling in love while dealing with depression, self-love over loving another. "Managing depression and anxiety is an ongoing battle for me, and my current partner has helped me work through so much, but that cliché sentiment about loving yourself before loving someone else has never felt so true," she says. "You can't rely on someone to fix you no matter how much you love each other."

Effervescence examines the aftermath of various relationships ('Strangers' and 'Old Wounds'), a painful split with a bandmate ('Eyes of Amber'), and ponders the concept of artistic and societal freedom by using the metaphor of a mythic, mermaid-like creature confined to land ('Truth in the Sea'). Though trained in opera, contemporary and classical musical styles, Selci uses ambience and rhythm to compose sounds that exist on the fringes of pop music. To create Effervescence, Selci spent years in isolation while mastering the craft of production, setting her on a path of rediscovery and self-acceptance.
Sound guru Sylvia Massy (Prince, Kate Bush) was enlisted to mix Effervescence, and Matt Colton (New Order, Blood Orange, James Blake) was tapped for his mastering touch. The record also features an array of rare instruments and equipment from the National Music Centre in Calgary. It's an album of thoughtful, meticulous detail; as much an exploration of sounds and textures as it is a journey of Selci's abilities as a sound designer and her dedication to carving out more space for herself and other women in technical roles.
"I always wanted to be involved in production and sound, but I didn't think I was capable of it," she says. "In the last few years, I gained a lot of confidence in my abilities. I felt like it was time to put out a complete piece of work. After performing countless shows, writing hundreds of songs that will never see the light of day, and hustling to bring my skills in production to a level that I believe in, I'm finally here."

https://www.facebook.com/selciofficial/