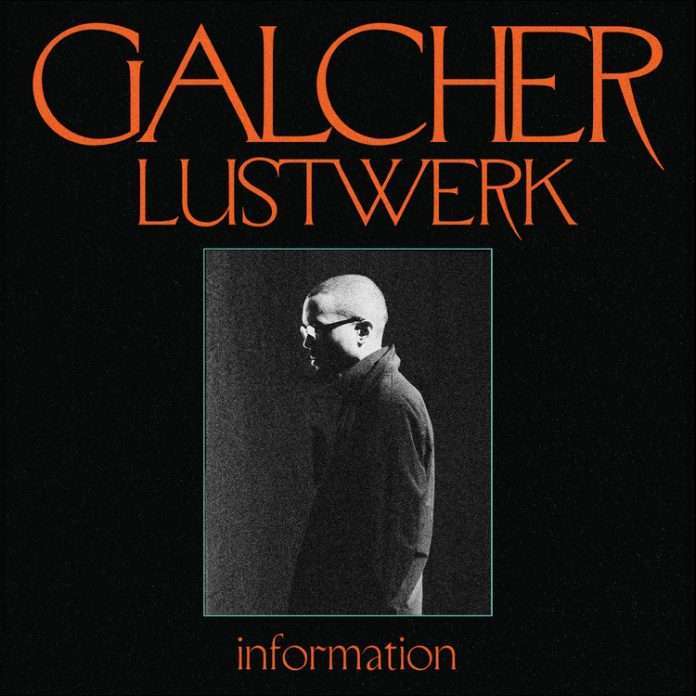 First, the intel: since the emergence of 100% GALCHER, his first mixtape in 2013, Cleveland-raised, New York-based producer and DJ Galcher Lustwerk has operated in his own lane of low-key hip-house music. Deep, smooth, psychedelic, equally cut for the club, after-hours, night drives, and headphones. The sound was set from the start: a smokey stream-of consciousness baritone shadow-boxing with beats, informed by funk, rap, rhythm and blues. He runs the label Lustwerk Music, an underground home to friends' work and several of his releases including the collaborative project Studio OST. In 2017 he issued his debut album, Dark Bliss, via White Material, and the following year shared a 20-track sprawl, 200% GALCHER, sharpening his craft.
Now, the Information: Galcher Lustwerk's Ghostly International debut is a clandestine rendezvous of half-dreamt nightlifes and smudged club dossiers, redacted like faded memories. Free associations on life as a recurring visitor, a deep house cover agent swaggering on and off the beat from city to city. As with most sleuthing, there are dead ends, transient (dis)engagements, faked documents, puzzles, and half-truths illuminated by strobe lights and cell phones.
As he fills the file on Information, evidence suggests that Lustwerk is a singular and savvy logician.
Stylistically, the tracks on Information are certainly in the same realm as Galcher Lustwerk's previous output, but a noted inclusion of more live drums and jazz saxophone create a new dynamic. As does a pivot in mindset, he explains: "Being from the midwest and with Ghostly putting it out, I think it's fitting to cull together my most midwest-minded, 'hookier' tracks. I wanted to capture a bittersweet quality that I hear in a lot of other Cleveland producers."
"Cig Angel" bubbles to life after dark, with a skipped out drum break bouncing through signature murky melodies and a hazy incognito narrative; the gumshoe ricochets late after a chance encounter, bailing to dust for prints at the penthouse. Similarly, on "Another Story," a tight drum groove with reverberated claps pace through hovering clusters of major/minor synth structures. Every P.I. is due their own diligence, and here we see Galcher Lustwerk fronting lyrically, casting off idiosyncratic crows as he glides through the shimmering gutters of the city at night. "I See a Dime" bounds off at a chase sequence pace, with bongos and tightly wound high hats, syncopated lyrics and scratchy voicemail memos glinting in an out of focus, synth saws and clipped house melodies casting the sequence in hard lighting and deep shadows.
One thing is clear, straight from the man himself, "Information doesn't equal knowledge, though we may be getting facts, the truth may not be clear." He isn't as interested in decoding reality as he is playing with it, letting fragmented memories inform his fiction, fusing the exaggeration of rap with the suspended belief of dance music. Any uncertainty aside, on Information, Galcher Lustwerk is characteristically and conspicuously on point.
Galcher Lustwerk Information
Tracklist
01. Left In The Dark
02. I See A Dime
03. Another Story
04. Overpay, Overstay
05. Plainview
06. Bit
07. Thermonics
08. Cig Angel
09. Fathomless Irie
10. Been A Long Night
11. Speed
12. Cig Angel (Dance Mix)
https://www.facebook.com/ghostly/