Swedish artist Lune gathered eleven friends to celebrate the power that can be felt through female energy. It's like the night you're getting ready to go out but decide to stay home with your girlfriends. The friends join up, get ready and dance to the song 'Wi-Fi' by Lune while the lyrics reflect every emotion in the video. 'Wi-Fi' is a dreamy tribute to the pure, unconditional love that can be shared between friends. A limitless place where you feel totally safe and time and space cease to exist.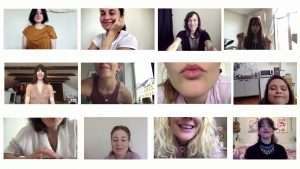 "There is a special bond between women that can be felt when we tap into that frequency of pure love. I want to share that love through the screen. Everyone is invited to join. Follow the moves and raise your glass with us. Everlove!", Lune comments on 'Wi-Fi Talk'.

With a hypnotizing, otherworldly voice and lyrics that go straight to the heart of human existence, Lune has a way of pulling the listener into her sphere. Whether it's dusky synths, a heartbreaking ballad or a beat that makes you want to dance, her enigmatic crystal pop instantly grabs a hold of you. Her previous work includes the mesmerizing Swedish House Mafia song 'Leave the World Behind' that was featured in a Volvo commercial and 'Teenage Crime' by Adrian Lux that set the tone for a decade of dance music that followed.
Growing up in the northern woods of Sweden Lune always felt like an outsider looking in. She moved to Stockholm when she was 16 to attend the Royal Swedish Ballet School. Dance is always present in her body and a big part of the way she communicates her music. The constant urge for artistic integrity drove her to start the label Play Human where she's now building a team with people from all artforms. The list of interesting collaborations and exceptional achievements is long. As a dancer she has participated in two highly praised performances at MoMa in New York. As a songwriter she has written hits for artists like Julie Bergan, Adrian Lux, Louane, ATTLAS, Icona Pop and KUNGS. As a thai boxer she is still undefeated. The things that challenge Lune is what she will go for. She will give it to you straight from the heart with no filters and no one can tell her otherwise.
Stream Lune – Wi-Fi Talk on dubiks NewMusicAlert playlist

https://www.facebook.com/theluneworld/