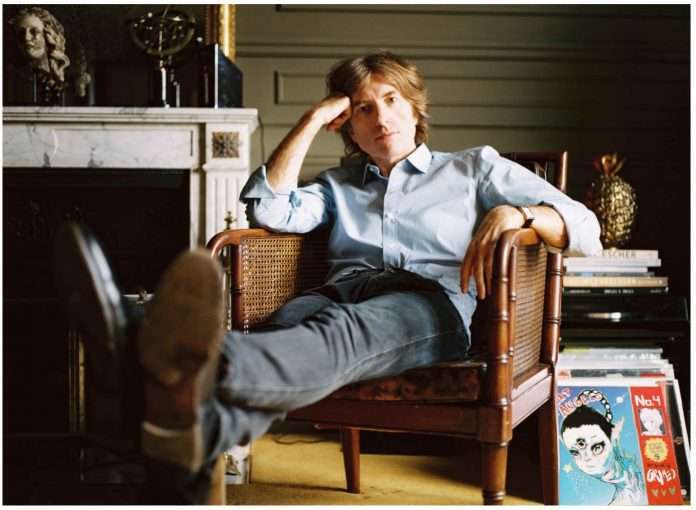 Nicolas Godin recently previewed the Expanded Edition of his second solo studio album 'Concrete and Glass' by sharing the single 'Another Side', a collaboration with the Grammy-nominated alternative R&B duo We Are KING. He further builds towards the re-release of the album on Friday by unveiling another new track entitled 'Love Theme'. It features Kadhja Bonet, the psych-soul artist who gained critical acclaim for her 2018 album 'Childqueen'.
Setting Godin's minimalist synth textures to Bonet's angelic vocal on 'We Forgot Love' proved to be one of the highlights of the original 'Concrete and Glass' album, and their connection prospers just as evocatively on 'Love Theme'. While her topline is unchanged, Godin's reimagined production completely changes its feel. This time it veers towards an organic, maximalist sound, with classically-tinged guitar, jazzy percussion and yé-yé flair establishing a cinematic grandeur. In this context, Bonet echoes the velvet timbre of Billie Holiday, transforming it into a torch song rich with yearning for an unfulfilled romance.
The accompanying visual for 'Love Theme' counters the architecturally themed aesthetic of the original album. It was again created by Iracema Trevisan, the acclaimed Brazillian creative and former member of cult electro-pop band CSS. Her video transports us to the tranquility of an island escape, with images that feel intriguely both photorealistic and computer generated.
'Concrete and Glass: Expanded Edition' finds Nicolas Godin diving deeper into the album's hypnotic allure with the addition of six bonus tracks. In addition to the two singles, 'Girl Like Sally' reprises and reshapes Kirin J Callinan's vocals from 'Time On My Hands' into something with almost new romantic aspirations, while Russian art-pop experimentalist Kate NV furthers the postmodern melancholy that made 'Back To Your Heart' so compelling with renewed vigour on 'Ti I Ya'.
The package is completed by two demos. First is an early version of 'Another Side', a beautiful, Bacharach-flavoured baroque pop song which Godin wrote with his daughter and son. His then 10-year old daughter Adele performs the impossibly pure vocals that lead the track, which was subsequently titled 'L'Enfance n'a qu'un temps' and translates as 'Childhood Only Lasts For So Long'. It's followed by an early instrumental sketch of 'Catch Yourself Falling' (originally known as 'Spring Ritournelle'), its serene, piano-based ambience sounded like a great lost Air track.

https://www.facebook.com/nicolasgodinmusic/