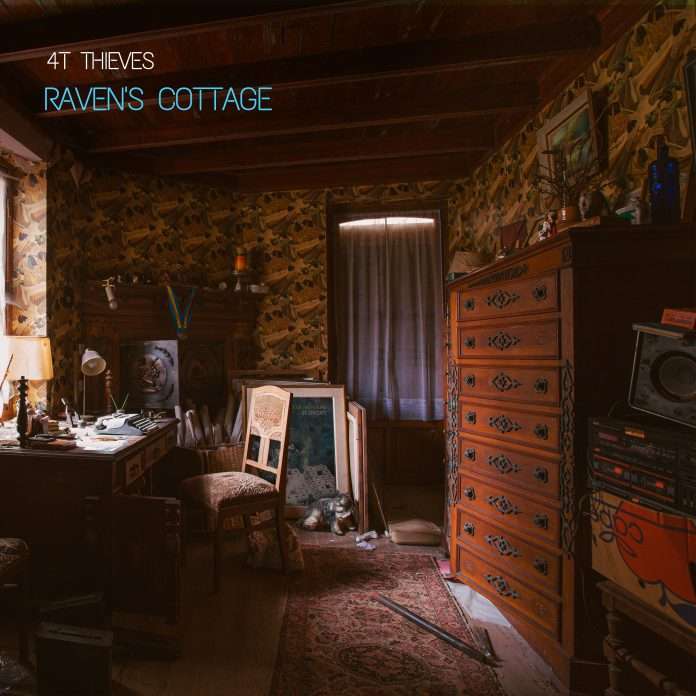 Upshot Knothole taken from 4T Thieves new album Raven's Cottage, out September 27 on Rednetic
4T Thieves returns to the vibe of his most recent Rednetic album and delves yet deeper into the rich vein of Kaleidoscopic Synthesizer lines and Tranquilized hip-hop beats, a vibe the Sandison and Eoin brothers have so wonderfully encapsulated.
Over the 11 tracks, there's a crackle and hum of faded technology, the lo-fi 80's feel and captivating wistful hazy melodies. Prepare to drift away into a labyrinth distorted by time.

4T THIEVES – Raven's Cottage
Track List:
01 Upshot Knothole
02 The Knifonium
03 Eddy Field
04 The Hole In The Ground
05 Raven's Cottage
06 506627 (Feat. Pandacetamol)
07 Ghosts
08 Eye Of The Storm
09 Open Windows
10 Stop Motion
11 Dreamwood
4T Thieves lists influences as diverse as late 70s and early 80s jazz, to orchestral and early IDM, mainly heard either on various DJ shows on Kiss FM London, to pirate satellite broadcasts in the early 90s from Dance Nation. Currently influenced by Boards of Canada's nostalgia inducing electronica and artists similar, hinting at glitch and lo-fi.
Connect Artist, Label, Support
https://www.facebook.com/4tThieves
https://4t-thieves.bandcamp.com/
https://rednetic.bandcamp.com/album/ravens-cottage