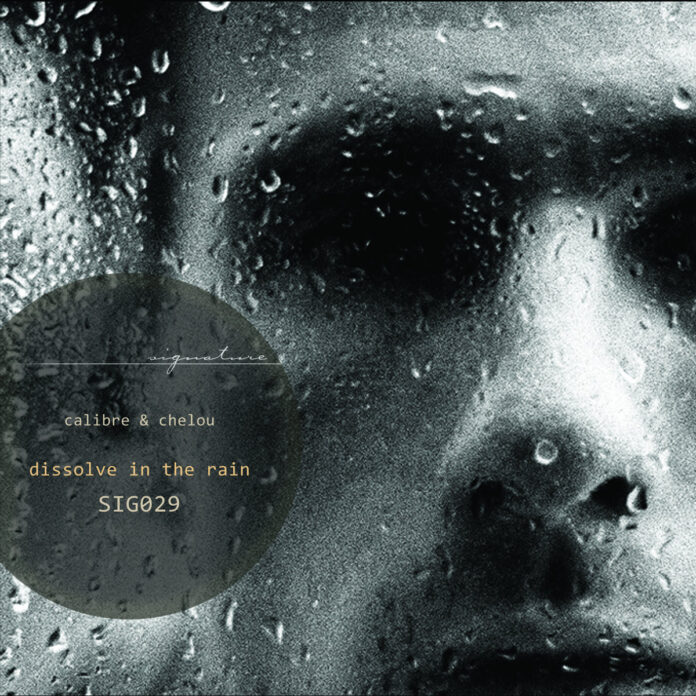 Calibre leans back into realms of jazz and blues on a captivating collaboration with Chelou. 'Dissolve In The Rain' is the merging of two artists both living the emotion of music, evoking a unique and encapsulating eight minute track. 
If you've followed Maya Jane Coles or the Nocturnal Sunshine alias, you'll recognise Chelou's vocal from their collaborations. He's an artist from London, making hybrids of folk and
electronic
with  producers that resonate with his abstract lyricism. He also has an impressive video archive on Youtube (over 60mil views combined) with illustrators and artists like Ricardo Cavolo, Polly Nor, Robin Eisenberg.
'Dissolve In The Rain' started as a raw demo of Chelou's guitar licks, abstract lyrics, and ethereal vocals, and it sat within a collection of tracks recorded a long time ago. Calibre, ever the experimentalist, took the most obscure track from Chelou's demo pack connecting with the confessional, journal-esque lyrics of a man in discussion with himself about past woes and guilt. Calibre turned this woe into a meandering beauty.
Calibre – "I first came across Adam's work via a remix I did of 'She Rocks, I Roll' back in 2019, the vibe was melancholic and leaned toward my own bluesy take on things. When 'Dissolve In The Rain' hit my inbox, I instantly connected with the guitar and vocal, in particular the lyrics, and felt it could be merged with a piano idea that I had. Merging these worlds created an arrangement for two sections; a lyrical passage that leads to harmonised vocals, and then an improvised and layered section, accentuated by Adam's lyric and guitar. It was a real pleasure to watch it almost make itself. The worlds combined lead to something nostalgic but new, it's a wonderful meeting of musical minds."
Chelou – "'Dissolve In The Rain' is a discussion with myself and living in past woes, wanting to get out of the space and do it right, the lyrics akin to what you'd write in a journal. Lyrical emotion is something I'm not afraid to put down on a track. I've always been very exposed in my music. I'm a folk nerd and love guitar music, classic rock and americana, so from a weird set of demos that I sent him around four years ago, the idea that Calibre picked the most obscure (and that's when I knew he got it!) and heard something in my acoustic music that sparked a transformation it into a track like this, has blown me away. The piano and harrowing pace is something that I would have never created, it's fucking gold."

https://www.facebook.com/signaturerecordings
https://www.facebook.com/chelouofficial