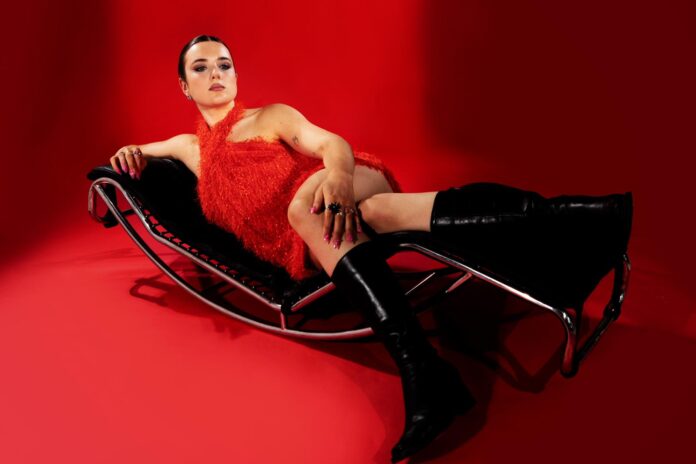 The lead single from her forthcoming 'Amorous' EP on Mutual Pleasure Records, the Melbourne DJ/producer/lyricist's debut production invites you into her steamy indulgence of surrealistic club hedonism via sub heavy dirty beats and sassy lyrics about owning your desires.
"'Amorous' is about taking control and embracing your desires, with a sense of humour attached. 'Hummer' is such a juxtaposition between perceived femininity and the objects associated with this / or not, and I wanted to show how trivial this is by being fun and not taking it too seriously! It opens up the story of coming on the dating scene and commanding attention but also not really giving a fuck. 'Juicy Bitch' reflects that post break up, angry, and sassy stage. 'Not Thinking Bout U' is getting back out there, not caring about that person anymore, having fun, feeling flirty and sexy. My favourite kind of music to indulge in in a club is dance music with a pop element, it's always resonated with me on the dance floor, creating moments that really stick with you""Juicy Romance –
Catchy hooks and pounding bass lines, 'Amorous' delivers a high-octane combination of harder club sounds with an unapologetic, fun, party energy leading tastemakers of the current scene such as VTSS to play the debut single 'Hummer', using it as a tool to set festival dancefloors alight this summer.

Juicy Romance moved to London
Originally from Melbourne, last year Juicy Romance made the decision to step away from a career in Medicine / Psychology, and moved to London to pursue a career as a triple-threat electronic act – DJ, producer and lyricist. Although 'Amorous' is her debut production (the first three tracks she ever made) she's conquered Australia's electronic scene over the last five years and cemented herself as one of the country's most exciting emerging DJs.
Appearing alongside established peers Ellen Alien, DJ Koze, Sally C, jamesjamesjames, Daria Kolosova, DJ Mell G, Skin On Skin, Partiboi69 and X Club, and in 2022 playing gigs across Europe for Melt Festival and Amnesia – rounding off the summer at fabric London and Hidden Manchester.


Juicy is playful in one breath, but a perfectionist in the other. She's put in serious hours via a classical music background as a trained violinist which she picked up aged four, as well dipping into piano, drums, sax, and vocals. A long line of musicians are weaved into her immediate family tree in the form of renowned conductors, composers, highly regarded jazz musicians, music teachers, and DJ and producers so she had no choice but to get involved.
Aged 19 she made the switch to DJing, inspired by her older sibling and mates like the Steel City Dance Discs crew in Melbourne. Disco was her gateway but naturally the glitchy and heavier sounds started to creep in, which is clearly reflected in the 'Amorous' EP and her DJ set
Juicy Romance 'Amorous' EP 
Track list
Hummer
Juicy Bitch
Not Thinkin Bout U
Not Thinkin Bout U (radio edit)
Stream or Download Hummer here
Listen to Juicy Romance 's 'Hummer' on Techno Trip playlist

Follow
https://www.instagram.com/juicy_romance/