The original Albanian festival returns to the sun-drenched beaches of the Riviera with an eclectic selection of DJs and live acts including Nu Genea, Marcellus Pittman, CC:DISCO!, Mafalda and very special 5hr B2B sets from Hunee & Antal and Moxie & Leon Vynehall
With a schedule of boat excursions, wellness workshops, and enjoyable holiday activities, Kala will once again provide plenty of action away from the dancefloor to complement the pleasantly unhurried musical offering.
Juan Lopez, Marketing Manager of Kala says "In a fast-changing festival landscape, Kala offers a new way of experiencing a summer festival, pairing a beach holiday at an exciting offbeat destination, an intimate and friendly festival atmosphere, and a curation that sets it apart from its peers with a healthy amount of live music, extended 5h sets by the headline DJs, and an eclectic yet coherent selection of talent across decades and genres."


Emphasizing quality over quantity, the top DJs on the bill are invited to play extended sets, with Hunee & Antal and Moxie & Leon Vynehall filling two out of the five all-night slots. Other top-rated sectors booked to play at Kala's beachside stages include Marcellus Pittman, CC:DISCO!, Prins Thomas, Paula Tape, Yu Su, Secretsundaze, and Maurice Fulton who will bring their signature eclectic selections, while the likes of Lena Willikens, Vladimir Ivkovic and Ciel will cover harder sounds. Rounding off the bill, Brian Not Brian, Jan Schulte, Jamie Tiller, John Gómez, Lauren Hansom, and Nick The Record will soundtrack the iconic Gjipe stage, situated at the end of an impressive canyon only accessible by boat.
Wellness plays a big role at Kala with yoga sessions, meditation, gong baths, and beach massages available to calm the mind and ease sore muscles from dancing. For those who would rather enjoy the festival site's crystal-clear waters, kayaking, pedal boats, paddle boarding, and snorkelling will also be an option.
A wide selection of onsite restaurants and bars will be keeping festival goers fuelled throughout the week, offering a range of delicious Mediterranean food, including plenty of mouthwatering locally sourced vegetables and fresh seafood.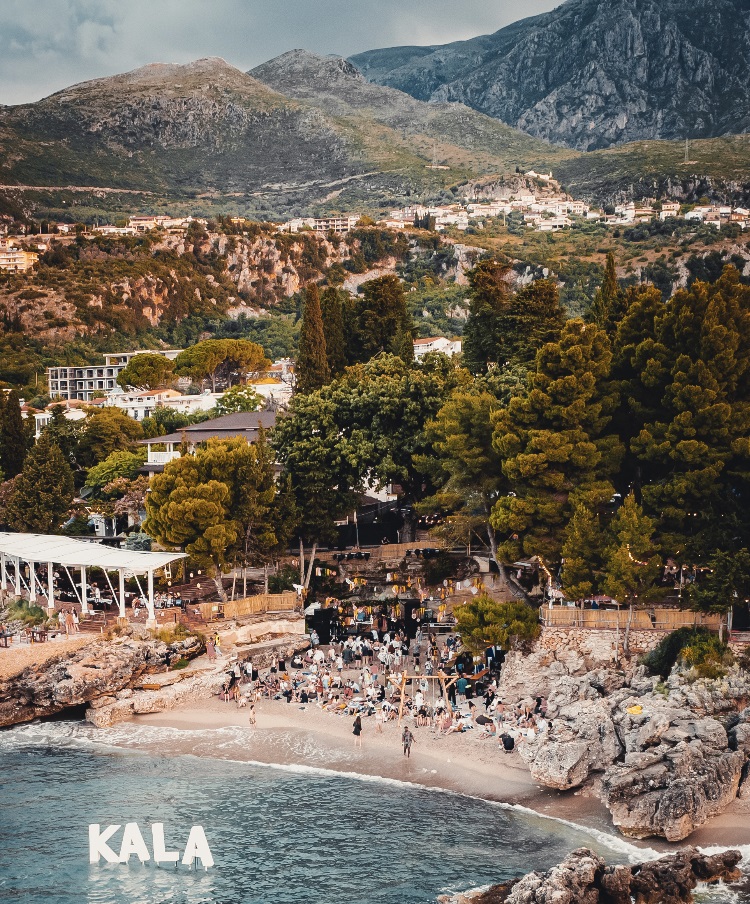 All tickets include accommodation and a festival wristband. There is a wide range of options available, from exotic beach huts to fancy 5* hotels, and most are within walking distance from the festival site. Having a comfy bed to rest in is one of the aspects that makes Kala different from other festival experiences.
Address:
Dhërmi, Albania
Dates:
31st May – 7th June
Announced Artists:
Live:
Nu Genea
Ela Minus
System Olympia
Session Victim
5hr sets:
Hunee & Antal
Moxie & Leon Vynehall
DJ sets:
Marcellus Pittman
Shanti Celeste
CC:DISCO!
Prins Thomas
Paula Tape
Yu Su
Maurice Fulton
Willikens & Ivkovic [all night]
Roza Terenzi
Ciel
Mafalda
Luke Una
Jaye Ward
Soho
Tomi GJ
Andi Q
Besa M
Yll Megi
AKA Juan
Gjipe residents:
Brian Not Brian
Jan Schulte
Jamie Tiller
John Gómez
Lauren Hansom
Nick The Record
Partners:
Secretsundaze
Phonica
Toy Tonics