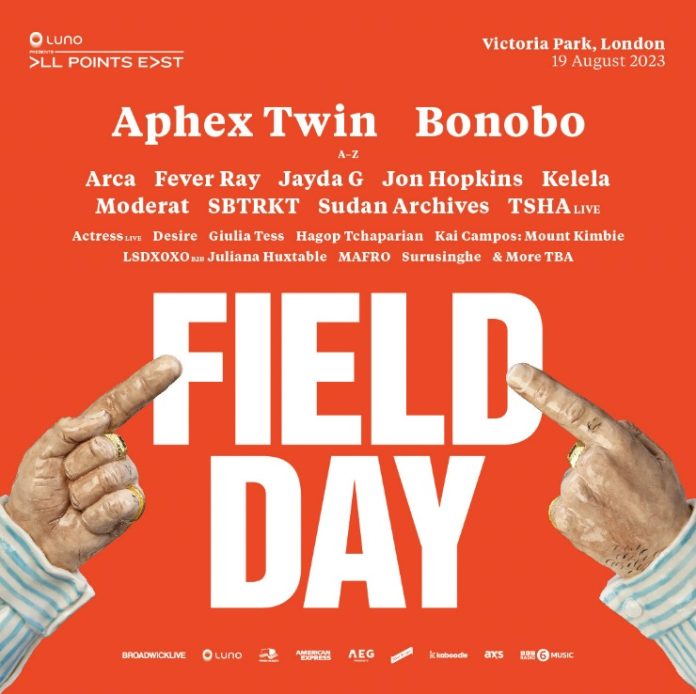 Aphex Twin, Bonobo, Jayda G, Arca, Kelela, Fever Ray, Actress (live), Julianna Huxtable, Sudan Archives, TSHA (live), and more announced as the first 20 acts joining London's Field Day Festival
After a sold out 15th anniversary in 2022 that brought together 50,000 electronic music aficionados together for a day-long session at Victoria Park, Field Day returns with its largest, most eclectic line-up to date. Now in its 16th year, Field Day has lived at the heart of the London festival calendar with its end of summer soiree, featuring revered acts from all corners of the electronic underground. Aphex Twin, Bonobo, Jayda G, Arca, Kelela, Fever Ray, Actress (live), Julianna Huxtable, Sudan Archives, TSHA (live), and more have been revealed; each set to descend on Victoria Park on August 19th 2023 for an unmissable show.
Field Day has always been a festival that champions left-leaning sounds – and this year they will welcome back the king of all things unearthly, Aphex Twin, to his Hackney home for another jaw-dropping audio-visual epic. The mysterious producer Richard D James aka 'Aphex Twin' is undoubtedly one of the most influential names in the leftfield world, and sits as one of the most respected creators of our times. This will be his first performance since 2019; a progressive and experimental AV exploration in collaboration with Weirdcore. Aphex Twin's last set at Field Day back in 2017 was a rare visit to earth for the other-wordly producer, and now he returns for what will be another major outing from the idiosyncratic artist.
Also on the bill is Bonobo, the masterful creator known for his inventive productions that pull influence from all corners of electronica.
The long-term Ninja Tune affiliate is revered for impressive live shows that journey through lo-fi and experimental beats to hi-energy sonics – always a strong performance.
A rare UK show is also in store from Arca, the Venezuelan creator whose output sits at the forefront of cutting-edge electronic music and is fused with artistic live performance. Fever Ray joins for what will be a major performance at Field Day 2023. A festival fave, Jayda G returns with her usual blend of feel-good house, disco, edits and singalong faves, as well as TSHA, Jon Hopkins and Kelela – set for live performances that are unmissable for the Field Day bucket list.
The illusive and fantastic Actress is on board, one of the most mysterious players in the world, Actress has impressed for years with his imaginative creations that sit in their very own starry realm. Monkeytown head honchos Moderat are set to take to the stage; the Berlin based group have been a vital part in shaping the movement. Also on board is SBTRKT – whose creative creations has defied genres mixing abstract dance music with lush vocals.
Field Day's commitment to showcasing the finest in electronic and experimental music shines through year on year, and is now a central point for the electronic music community and fans to gather and celebrate the strength of the scene. Across the day there'll be plenty more to see and do in its Hackney home, with more to be announced in the coming months. Field Day never disappoints when it comes to pushing the boundaries of programming, and are proud to showcase a fine, colourful and eclectic selection of acts for 2023.
Field Day 2023
August 19th – Victoria Park
Fielddayfestivals.com – @fielddayfestivals
Aphex Twin – Bonobo – Arca – Fever Ray – Jayda G – Jon Hopkins – Kelela – Moderat – SBTRKT – Sudan Archives – TSHA – Live – Actress – Live / Desire / Giulia Tess / Hagop Tchaparian – Kai Campos: Mount Kimbie / LSDXOXO b2b Juliana Huxtable – MAFRO / Surusinghe & More TBA…
Field Day 2023 Tickets – Early birds from £45
Pre-sale tickets : 11am – 26.01 – General Sale : 27.01 – Fielddayfestivals.com