Producer, DJ, and composer Seb Wildblood returns to the fold with third album 'separation anxiety.' Set for release on 13th September via his own 'all my thoughts' label, the prolific producer's blissful electronics are on full display across the album's 10 tracks, his most ambitious and fully realised offering yet.
"The record largely explores coming to terms with abandonment, and what that looks like when starting to build a future of your own," explains Wildblood. While 'separation anxiety' is structured within the realms of traditional dance music, the record harmoniously exists between the worlds of ambient, indie, electronica, jazz and classical.

Featuring critically acclaimed multi-instrumentalist Laraaji, ethereal album opener 'here/hear' was made with Wildblood's live show in mind. "It was a dream to work with Laraaji on three tracks on this album. The collaboration enabled me to further shift the parameters of what's expected from a traditional dance record and is a line that I tried to consistently toe throughout the album," he explains. Next up and featuring Dial Record's Lawrence, 'don't see this' brims with floaty tech house nostalgia, while Montreal's Tess Roby lays down vocals on the title track which deal with personal loss. Swedish pop auteur sir Was joins Wildblood on hypnotic indie-dance track 'give it back,' giving his trademark dreamy piano house some added urgency. Elsewhere we hear Wildblood and 'mauv' team up once more on 'handshake,' the pair having previously penned 'Amelia' from his debut album 'sketches of transition,' amassing over 10 million streams to date. Laraaji enters the fold again on dusty club roller '366,' before Wildblood's personal favourite and peak time emotional banger 'it's sky time.' Ambient album closer 'slice' is a brave but seamless juxtaposition to the penultimate track.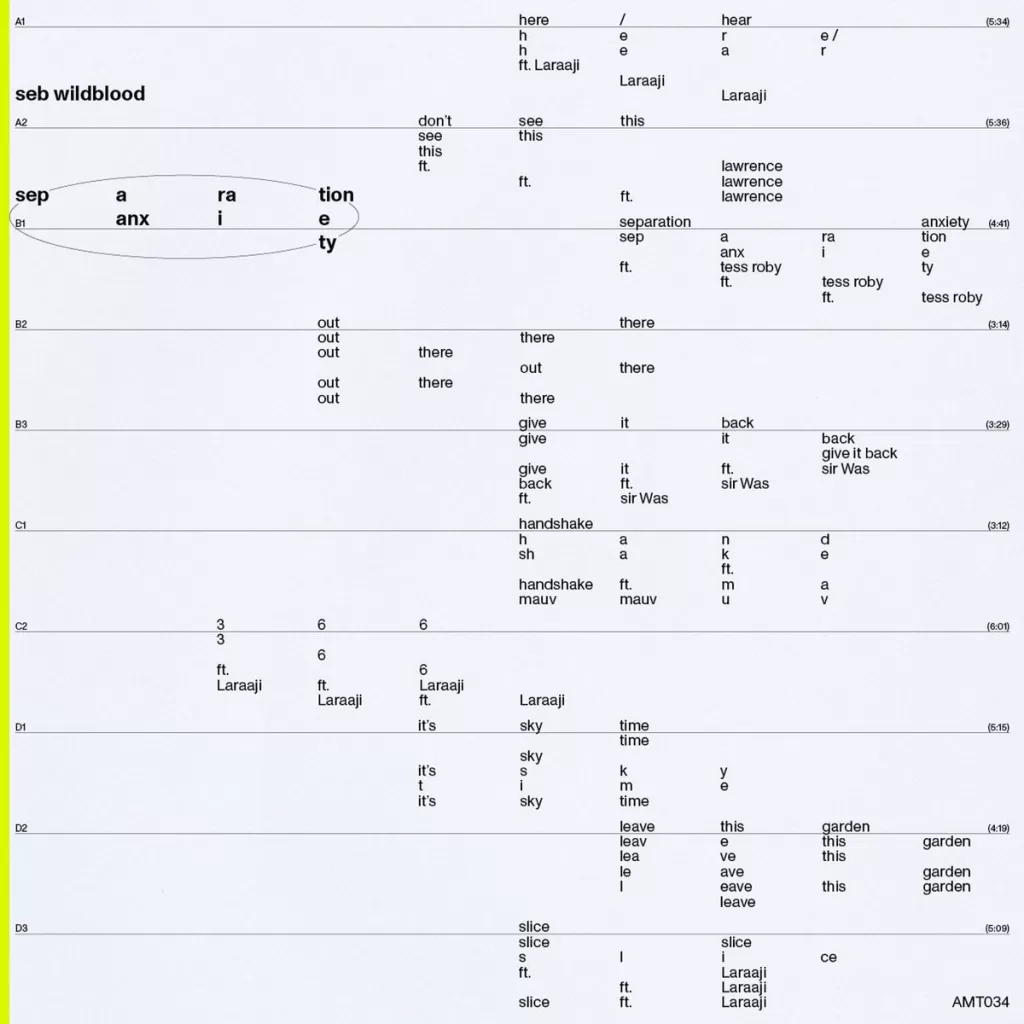 Seb Wildblood – Separation Anxiety
Tracklist:
1) hear / here ft. Laraaji
2) don't see this
3) separation anxiety ft. Tess Roby
4) give it back ft. sir Was
5) out there
6) handshake ft. mauv
7) 366 ft. Laraaji
8) leave this garden
9) it's sky time
10) slice ft. Laraaji
Stay tuned at Futuristic Tracks of the Week selection and Listen to Seb Wildblood's new music first

photo credit: dan medhurst
follow
https://www.facebook.com/sebwildbloodofficial