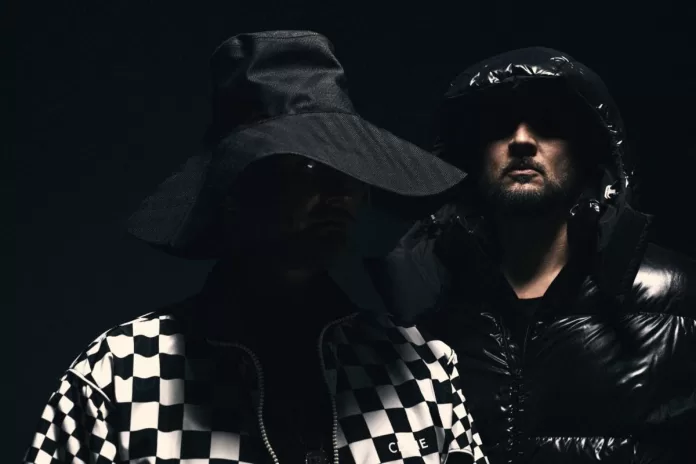 Röyksopp today share the Fideles Remix of "Stay Awhile" (ft Susanne Sundfør) which arrives just ahead of the 2023 True Electric North American Tour which commences in San Francisco at The Warfield on September 21, before dates at the NOVO in Los Angeles on September 22 and at New York's Terminal 5 on October 1. The True Electric tour will be the legendary duo's first North American tour since 2017 and follows a sold-out European tour in February and European festival dates this summer. Tickets are on sale HERE.
"With True Electric we want to bring the pure and immersive Röyksopp experience of our studio productions to the live stage. This means synths, samplers & sequencers, in a performance where the hero of the show is the music itself. Expect an eclectic set where energetic beats meet vast, transcending soundscapes. True electric – what it says on the tin." (Röyksopp)
Over the past 2 years, these music pioneers have innovated once again with their extraordinary Profound Mysteries project, working with a cast of global visual and musical collaborators including designer Jonathan Zawada, the film production house Bacon, Alison Golfrapp, Susanne Sundfør, Pixx, Astrid S and many more, to create an incredible 30 tracks, 30 artifacts, 30 visualizers and 30 films as well as ongoing series of remixes featuring Mind Against, &Me, Qrion, Baauer, LP Giobbi, Maceo Plex, Enrico Sangiuliano, Jan Blomqvist, NTO and many more.
Röyksopp True Electric North American tour dates below:
9/21 – The Warfield, San Francisco, CA – Tickets
9/22 – The Novo, Los Angeles, CA – Tickets
9/23 – CRSSD Festival, San Diego, CA – Tickets
9/25 – Ogden Twilight, Salt Lake City, UT – Tickets
9/26 – Summit, Denver, CO – Tickets
9/28 – Concord Music Hall, Chicago, IL – Tickets
9/30 – HISTORY, Toronto, ON – Tickets
10/1 – Terminal 5, New York, NY – Tickets

Profound Mysteries
1. (Nothing But) Ashes…
2. The Ladder
3. Impossible (feat. Alison Goldfrapp)
4. This Time, This Place… (feat. Beki Mari)
5. How The Flowers Grow (feat. Pixx)
6. If You Want Me (feat. Suanne Sundør)
7. There, Beyond The Trees
8. Breathe (feat. Astrid S)
9. The Mourning Sun (feat. Suanne Sundør)
10. Press «R»

Profound Mysteries II
1. Demiclad Baboons
2. Let's Get It Right feat. Astrid S
3. Unity feat. Karen Harding
4. Oh, Lover feat. Susanne Sundför
5. Sorry feat. Jamie Irrepressible
6. Control
7. It Was A Good Thing feat. Pixx
8. Remembering The Departed
9. Tell Him feat. Susanne Sundför
10. Some Resolve

Profound Mysteries III
1. So Ambiguous feat. Jamie Irrepressible
2. Me&Youphoria
3. Stay Awhile feat. Susanne Sundfør
4. The Night feat. Alison Goldfrapp
5. Lights Out feat. Pixx
6. Speed King
7. The Next Day feat. Jamie Irrepressible
8. Just Wanted To Know feat. Astrid S
9. Feel It feat. Maurissa Rose
10. Like An Old Dog feat. Pixx
Stay tuned at Melodic Journey Tracks of the Week selection and Listen to Röyksopp's new music first

Photo Credit: Stian Andersen
Follow
https://www.facebook.com/Royksopp/